The collective shelf book club
Explore the industry's biggest thinkers and innovators
Did you know that we host a bi-monthly book club? Join us as we unravel a range of inspiring and innovative career boosting texts. We'll chat, discuss and learn together as we revel in the epiphanies and ah-ha moments that can only come from getting lost in a really good book.

We'll share a few book options for you to choose from. Once the book has been decided, you've got plenty of time to get into it – a whole 2 months in fact! During that time, you can chat with other community members in The Collective Shelf group, sharing thoughts, ideas and impressions as you make your way through the text.
We then come together over Zoom to really dig deep into what we've just read. This is a great space to share ideas, collaborate and brainstorm – who knows what might come out of it!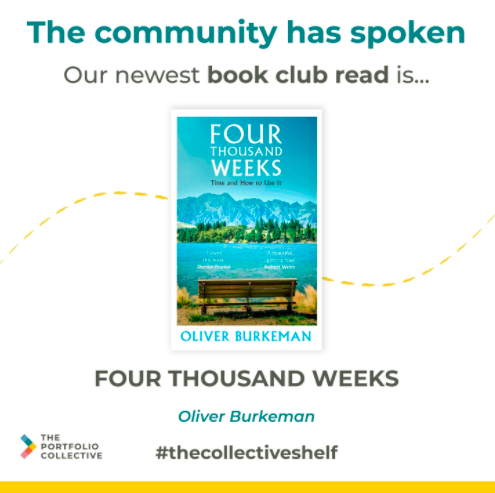 Our next book club read is Four Thousand Weeks: Time and How to Use It by Oliver Burkeman. 
Labelled as time management for mortals, Burkeman argues that we obsess over our to-do lists so much that we never get round to doing what actually counts. It rejects the idea of having to get everything done and instead focuses on creating a more meaningful life.
We'll be discussing Oliver Burkeman's Four Thousand Weeks in May's book club call, but in the mean time why not let us know what you think by posting in The Collective Shelf group? 
If you're already a community member, please login to book your place. 
Not signed up yet? If you'd like to book a spot, you'll need to become a member of our community first. Once signed up, you will be redirected to this page and will need to click the "register" button to secure your spot for this event.