The collective shelf book club
Explore the industry's biggest thinkers and innovators
Did you know that we host a bi-monthly book club? Join us as we unravel a range of inspiring and innovative career boosting texts. We'll chat, discuss and learn together as we revel in the epiphanies and ah-ha moments that can only come from getting lost in a really good book.

We'll share a few book options for you to choose from. Once the book has been decided, you've got plenty of time to get into it – a whole 2 months in fact! During that time, you can chat with other community members in The Collective Shelf group, sharing thoughts, ideas and impressions as you make your way through the text.
We then come together over Zoom to really dig deep into what we've just read. This is a great space to share ideas, collaborate and brainstorm – who knows what might come out of it!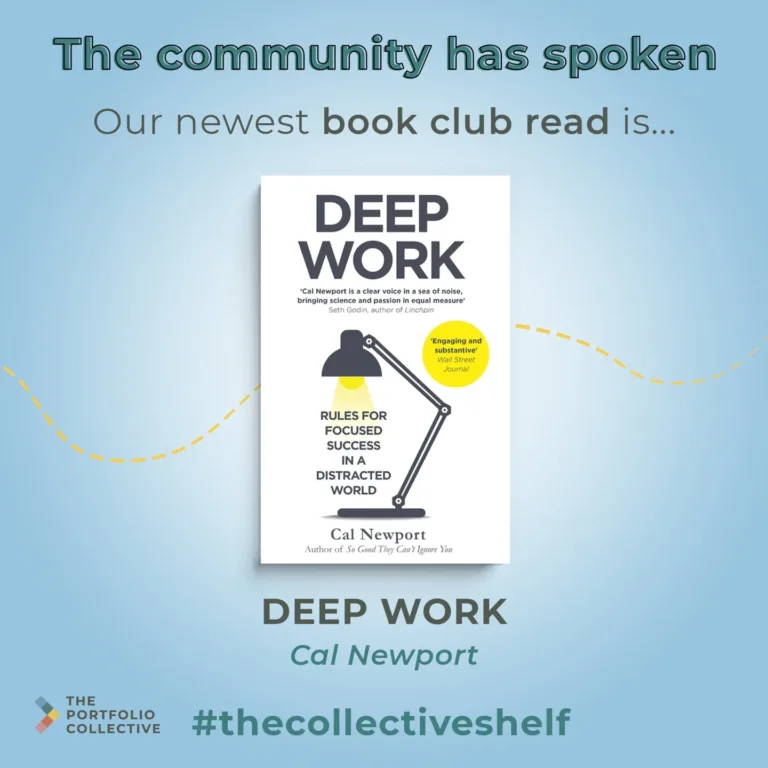 The book we'll be exploring throughout October – and together on the 27th October 1-2pm – is Cal Newports's Deep Work.
Cal Newport coined the term deep work and began exploring the methods and mindset that foster productivity and the ability to master distraction. Newport shares a huge collection of tools to help utilise your full mental and intellectual capacity, whilst training the mind to focus in an increasingly distracted world.
"To build your working life around the experience of flow produced by deep work is a proven path to deep satisfaction."
Cal Newport, Deep Work: Rules for Focused Success in a Distracted World
If you're already a community member, please login to book your place. 
Not signed up yet? If you'd like to book a spot, you'll need to become a member of our community first.