Being part of the The Portfolio Collective community is about more than just building a network – it's about learning, growing, and collaborating. More importantly, it's about bolstering your portfolio career, which is why we're so excited to launch a talent matching service that connects you with a host of innovative and cutting-edge startups looking to hire independent talent.
If  you want to connect with those opportunities, you need to create a robust and distinctive profile. A well curated profile opens doors to collaborations and allows you to proudly display your experience and skills whilst really focusing on what you have to offer.
We understand that your story is constantly evolving so we have created this guide to help you best define yourself and stand out to recruiters on our platform. 
There is no right or wrong way, but here are a few pointers to help you get started.
If you haven't filled out your profile before, simply click on your avatar and select "edit profile" from the drop down menu.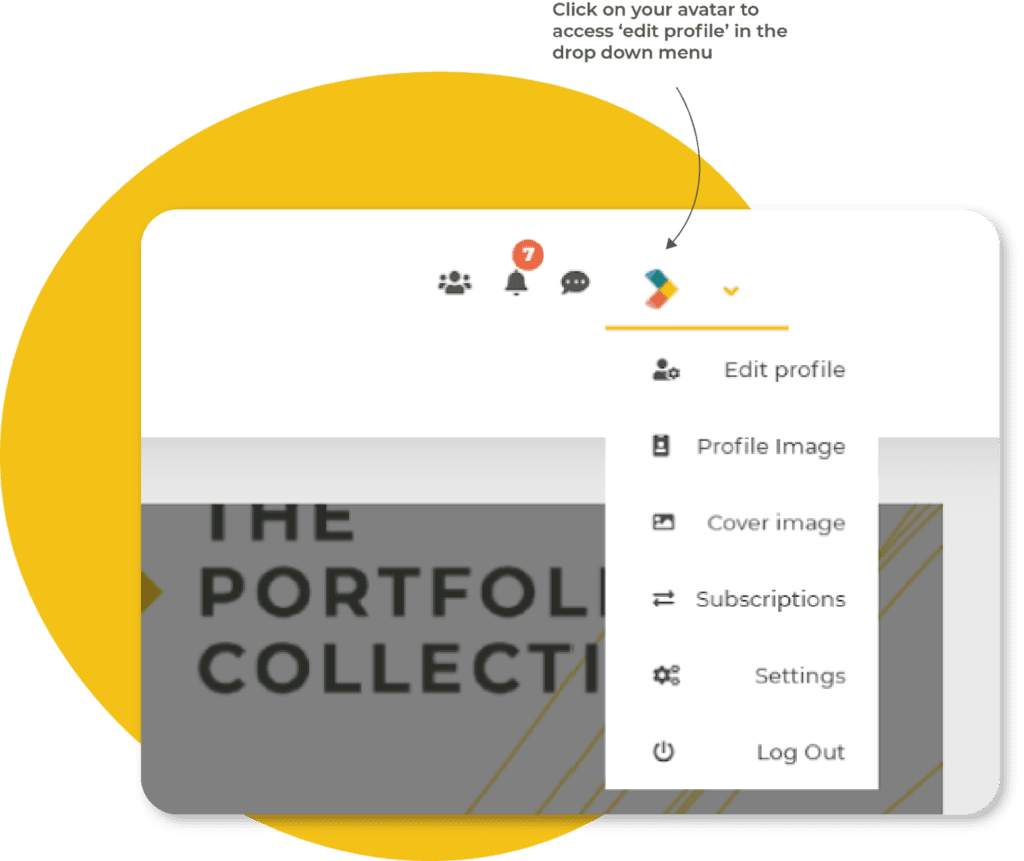 Once you've updated your name preferences (we suggest having your first and last name as your display name), click on the yellow person on the left hand menu or the "Me" on the top menu.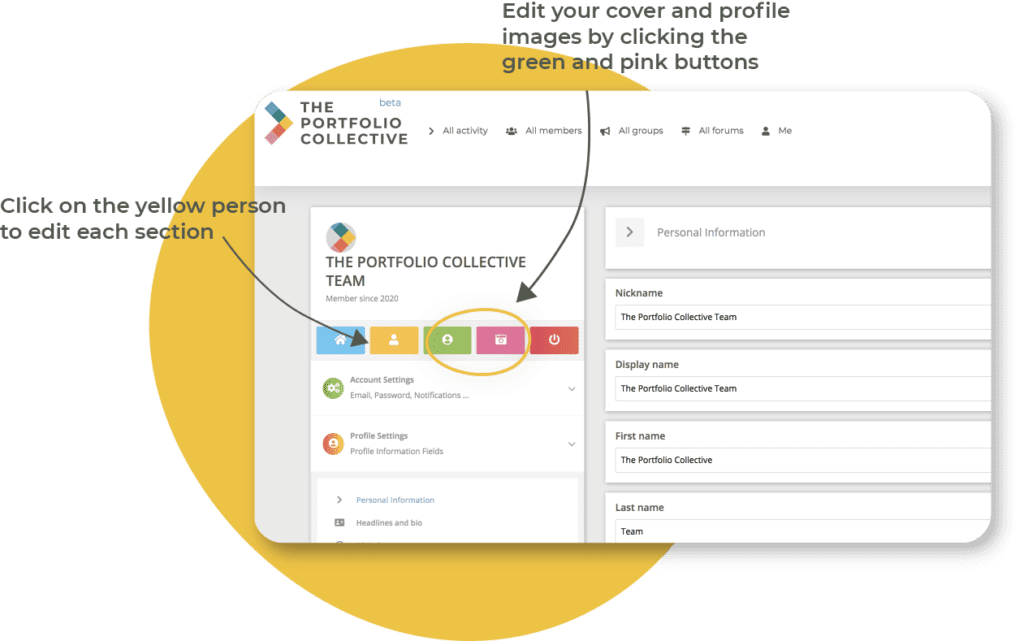 From your profile page, you can edit each element by clicking the yellow person next to each title. Once in the editor, you can work through each section via the left hand menu.
You can edit your profile and cover images either by accessing them via the drop down menu on the top right, or by clicking the green and pink icons in the editor menu as shown above.
Your profile picture and cover image is the first impression of you on the platform, especially when other community members are searching for connections on the Member Directory. 
When taking the photo for your profile picture, you should aim to look professional but approachable, ideally facing the camera directly or at only a slight angle with good lighting. Keep in mind it will be a circular image, so your head and shoulders should be centred whilst your background is clean and clear. 
The header or cover image allows you to visually show your approach, skills, or passion. If you do not choose your own image then the default header image is displayed. See our note below about using stock photography to your advantage.
As a portfolio professional you probably have multiple roles and specialisms that define who you are. You can use the "I am" feature to explain these diverse skillsets and core interests. If you want to edit your headline, click on "new headline" to create a new "I am" title. Each title is limited to 25 characters.
Bio
This area is completely open to interpretation. You could use it to summarise your background, highlight where you want to take your portfolio career, or even provide a further insight into why you do what you do. Most of the bios are written in 1st person and all have a 400 character limit.
Digital Presence
Navigate into this section using the left hand sidebar.
Here you can link to any of your social channels – be that your website, social media platforms, or other sites where you have a digital presence. This allows you to link to any additional information that helps to further explain your project or previous work/experiences. The icons can be used to denote each site or platform using their logo.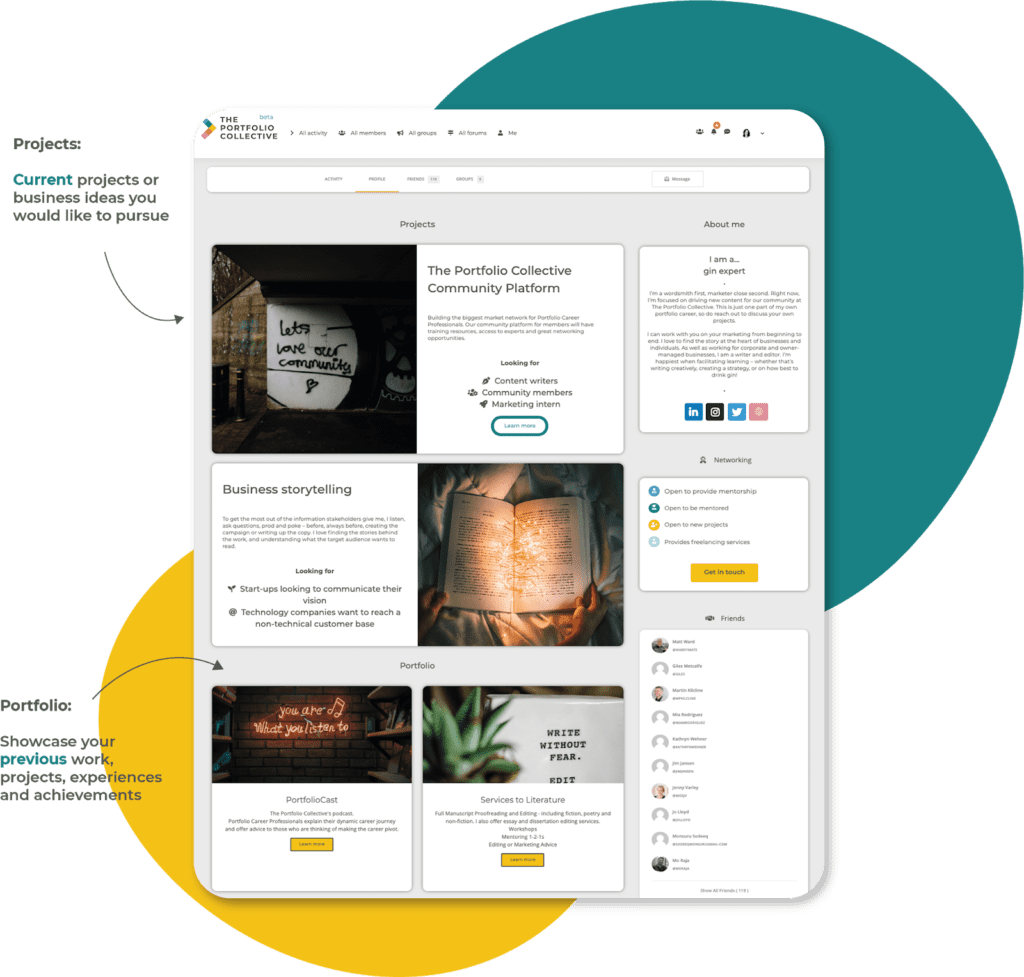 Your Projects
This is the first section people will see and will help to explain what you're currently working on or the new business ideas that you want to pursue. It's a great way to give potential clients a glimpse of the range of services you offer.
Click here to update your projects.
Your Portfolio 
This next section is focused on your previous work, projects, experiences, and achievements. Unlike other platforms, you're not restricted by chronological order. So use this section to showcase the most relevant elements of your portfolio in whatever order you find most fitting.
Click here to update your portfolio.
Imagery 
Each project or portfolio item is displayed as a card with a large image attached. We recommend attaching original images that visually represent the project or experience. If you don't have any original images yourself then sites such as Unsplash and Pexels are great tools to get high quality stock images for free. Please note: you will need to upload a photo before you can save the project.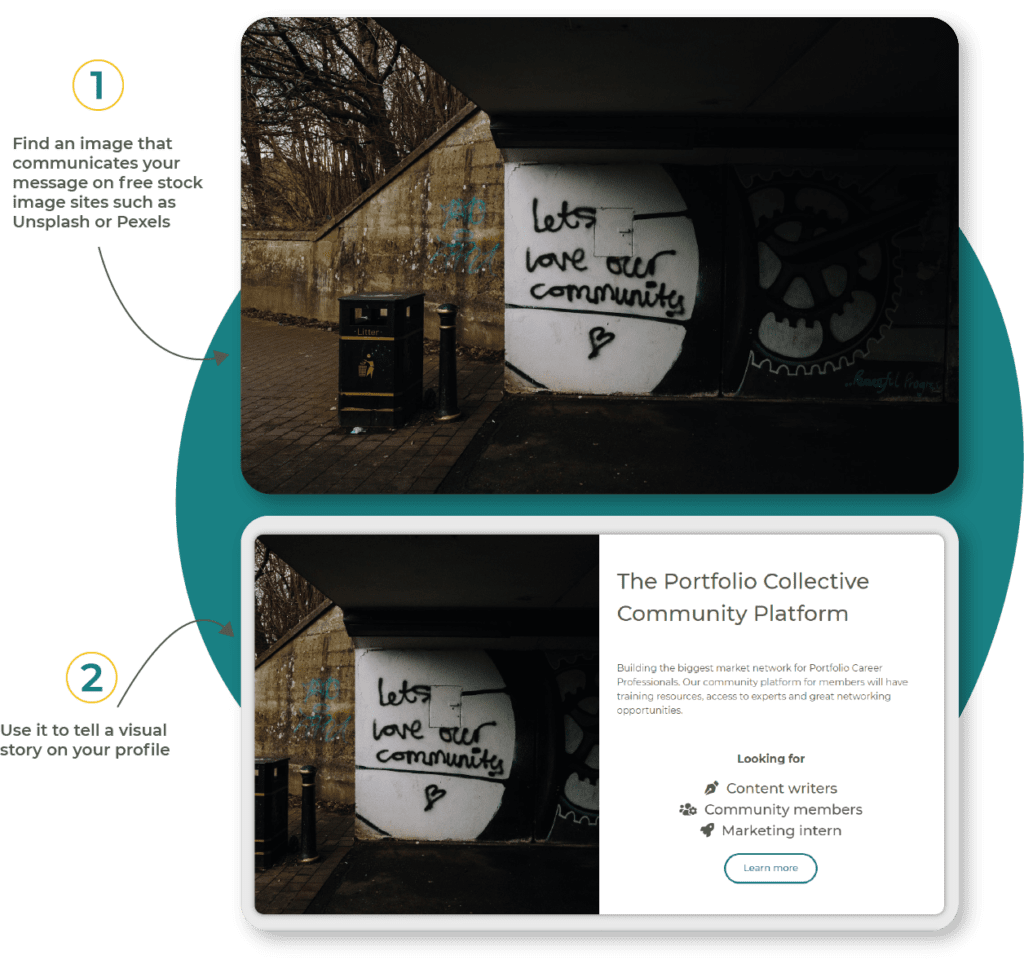 Top tip: Use a square image with all of the core elements in the centre, this will ensure that nothing is cut when it's displayed on your profile. The icons for each "looking for" element allow you to get creative!
Content
When updating your profile, we suggest writing in the first person and giving a brief description of what you do/have done, using terms that are accessible to all. Always keep keywords in mind when filling out the different sections. Think about the terms and phrases recruiters might use when looking for someone to fill a role. Are you using that same terminology?
Then ask yourself what you're looking for. Think about who could help you on your portfolio career journey. Having this on your profile can act as a signpost to other portfolio professionals who might have the knowledge or connections you need.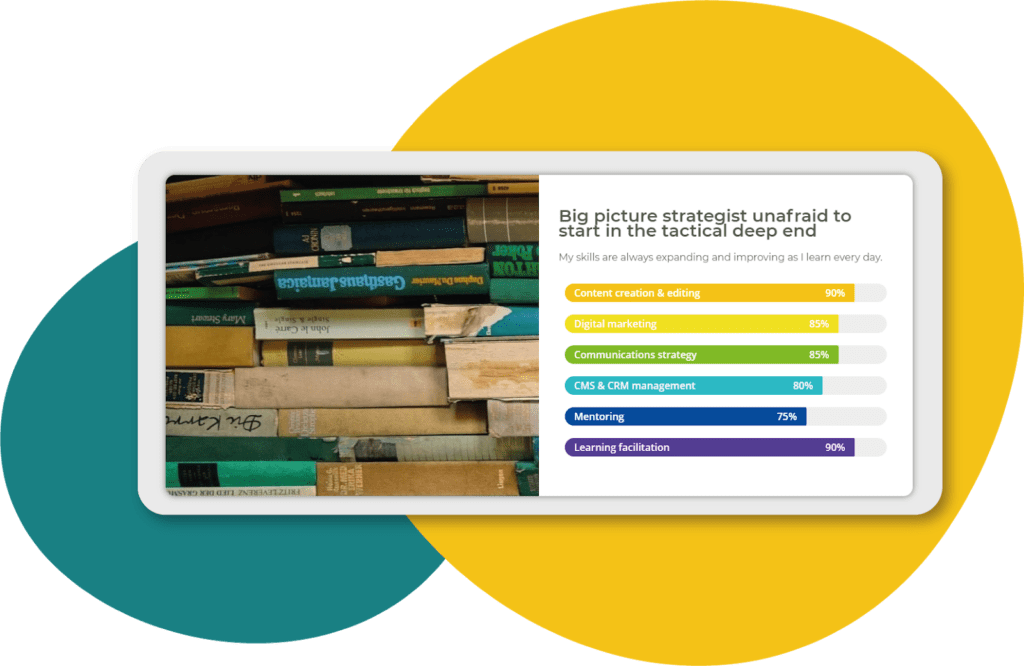 The skill heading is a short statement that best summarises your skillset. If you'd like you can expand upon this statement by using the subheading box (optional).
You can choose up to 6 hard skills and/or soft skills that you feel best describe your repertoire. This is a great way to show off how diverse your skills and offerings are. 
Click here to update your skills.
We encourage you to look at other members' profile pages for inspiration. Check out some of our founder members' examples on the TPC Team portfolio and how they have developed theirs. Don't be afraid to ask others for advice – the TPC team is always on hand to help out, so reach out if you'd like some feedback. 
It's important to think about why you joined The Portfolio Collective in the first place…
If you're not sure what to write or what experiences to highlight, think about what you have written on your CV or LinkedIn. If you recently applied for jobs what did you want your potential employer to know about you? Were there any characteristics that you were trying to demonstrate through your past experience? 
There is no right or wrong way of filling out your profile and we expect it will change as you continue to develop your portfolio career.
If you would like any guidance or feedback please ask for help via the community or contact members of the TPC team directly. We host a weekly Drop-in Clinic designed to help you get the most of the platform, so if you aren't sure where to start with your profile, come along and ask us – we're here to help!