There's no hard fast rule that says you shouldn't love what you do for a living, yet so many people fall into work that doesn't inspire them – nearly 50% of people, in fact. It's a sobering realisation, knowing that a third of your life is spent working. So why shouldn't you build something that celebrates your values and allows you to embrace your passions?
The good news is that it's never been easier to create a career designed around YOUR interests and YOUR ideals. Welcome to the portfolio career revolution.
Creating a career that works for you
Portfolio careers are booming for a reason – we're no longer limited to the old model of work where you have just one job or one employer. Nowadays, you can monetise your skills however you like and there's nothing stopping you from doing several different things at the same time. By taking control of your career, you can choose clients that align with your values.
But what does it mean to have a portfolio career? A portfolio professional is someone who has several sources of income at the same time – and there's nothing that says those sources can't be wildly different. Take, for example, Lara Hayward, a member of our community who is a career consultant, a b-corp legal advisor and a circus performer. Her portfolio career allows her to tap into the diversity of skills and interests that she has, all whilst putting her passions front and centre.

So how can you ensure you're building a values-driven career?
Think of your values like an internal compass that points you towards a larger goal. Is your goal to ensure global sustainability? Or maybe it's to inspire others to innovate through creativity. You could be driven to ensure equality and accessibility for underrepresented groups or hell bent on making companies think differently about how they consume and produce. The options are endless, and they're totally unique to you.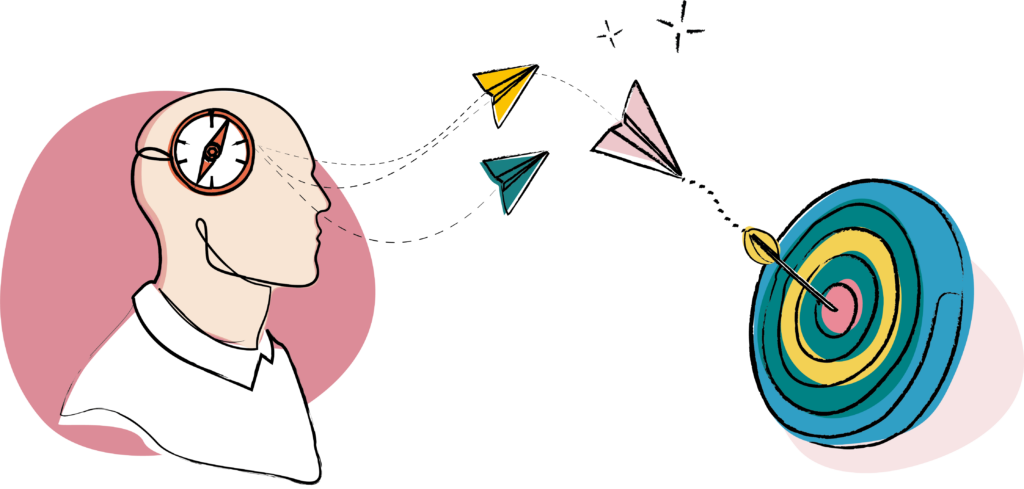 The more you shape your offerings and services around these values, the more meaningful your work becomes. When you work for someone else, you're not always able to drive these initiatives forward; but when you have a portfolio career, your mission becomes hardwired into the work that you do.
Determining your core values isn't always easy, especially when you've never had to articulate them before. That's why we wanted to help you navigate the process. Once you've pinpointed what your values are, you can shift your career in a more positive direction and lead a more authentic and fulfilling life. Let's get started.
First thing's first…figure out what your career values are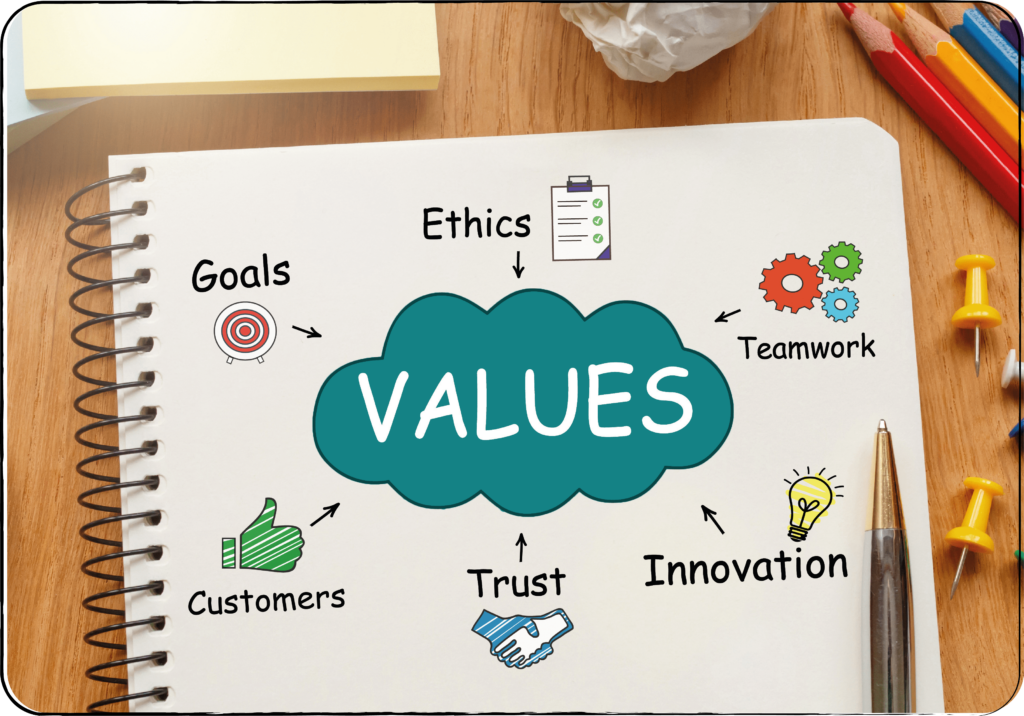 Think about what's most important to you and start from there. A good career value should enhance both your personal and professional life – this could do with the environment you work in or the people that you work with. What do you want to accomplish through your work and what would make you feel the most fulfilled?
Then think about the values you don't agree with – things like overworking, cutting corners or dishonesty.  Let's say, for example, that you value transparency and social impact. You can make a point of only working with companies that are up-front about how they impact the wider community. 
Some other examples of values can be:
Adventure

Empathy

Equality

Creativity

Flexibility

Happiness

Innovation
Kindness

Learning

Family

Resilience

Accessibility

Sustainability

Wellbeing
Write down the values that matter most to you, then think about other professionals or businesses that you admire. What are they doing that you'd like to embody? It can be helpful to group together similar values – these will become the core pillars you live by.
Turning your values into career goals
Once you know what drives you, it's easier to create defined goals and milestones that you can aim for. The first goal should always be to build a career that you love. If you feel stuck or stagnating in your current job, then start exploring ways you can shift into a more meaningful career. The beauty of a portfolio career is that you can transition at whatever pace you like.
Let's say you want to start a side hustle but aren't ready to leave your full-time job just yet – that's okay! Lots of people do both whilst they're getting their portfolio careers off the ground.
Once you have a clearer picture of what you want your career to look like, start setting small, achievable goals. Maybe the first goal is creating a website that articulates your values and the why behind your business. Or maybe it's landing a client that resonates with your beliefs.
From there, you can start to think about the bigger picture. Just remember to keep your goals SMART: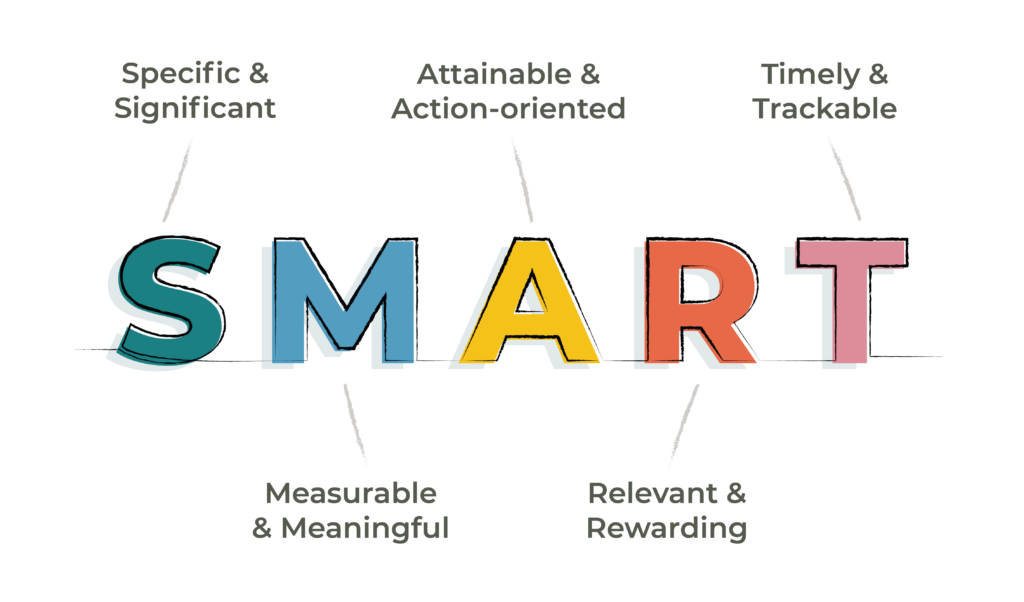 S

– Specific and significant

M

– Measurable and meaningful

A

– Attainable and action-oriented

R

– Relevant and rewarding

T

– Time-bound and trackable
Always assess, always evaluate
Our values often change depending on where we are in our lives, so remember to always allow time for reflection. If you do decide to shift into a portfolio career, then check-in with yourself every six months to see if you're achieving the goals you set. 
In the beginning, financial security may be the most important thing, but two or three years down the line you could be more focused on finding those dream clients that are helping you to drive your mission forward.
Ready to start building a more meaningful career based on your unique values? Come along to our free weekly Welcome Call to discover what a portfolio career could look like for you.