An online presence is an essential part of any business – it's what customers use to find you, understand what you offer and 'feel' your brand. So why should it be any different when your business is, well, you. As a portfolio professional, YOU are what you're selling. People pay for your skills, passions and your knowledge. In order to do that, they need to be able to find you and understand your offering digitally – otherwise that introductory call won't be happening.
That's why it's so important to have a profile that showcases everything you have to offer – your services, your experience, your values, your insights, your vision for the future. The good news? The Portfolio Collective gives you the tools you need to create a profile that can connect you with exciting opportunities.
We're here to help you craft a unique profile that stands out and lands you work.
But first, why is a profile so fundamental for your portfolio career?
Humans are inherently curious. They want to get to know you before they connect or consider working with you – even more so if they are considering paying you or giving you shares in their startup. Being able to easily uncover vital information helps people make informed decisions. In other words, your profile does a lot of the groundwork for you.
As we continue to build out our talent partnership service – where startups and scaleups come to us for professional part-time and interim talent – we are becoming more reliant on site search to find the right candidates. An empty profile means you won't get found for relevant opportunities. Just think of all the roles and projects you could be missing. A complete profile means that anyone searching the site for experts are likely to find you and may consider you for an opportunity. It is amazing the diversity of skills we see searches for – artificial intelligence/ green energy/ fundraising/ HR for startups/ partnerships/ mentors etc.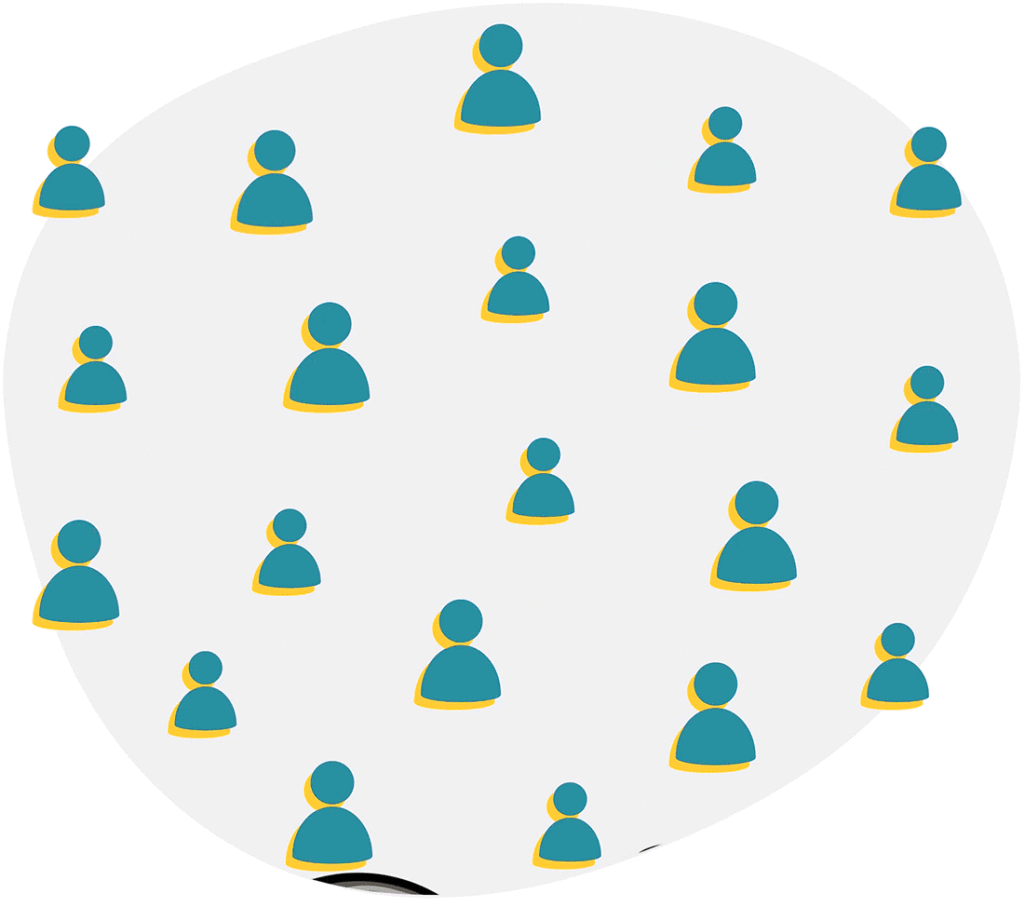 In addition to being found by recruiters, a complete profile on TPC:
We already have hundreds of site searches each month from entrepreneurs, startups and scaleups looking for expertise. In early 2022, we're aiming to make that thousands. So now is a great time to create a memorable TPC profile that lands you work. Here are a few tips to help you get started.
Share your values and interests
Skills are important – but so are your values. The startups and scaleups we work with are values driven, and they want to work with portfolio professionals that are excited about their mission. So when you're filling out your profile, don't just share your skills, tell us why they're unique and how they align with your values.
Let's say you work in finance but you're passionate about sustainability – that's important! Or maybe you're a creative who also works as a non-executive director on the board of an edtech startup. That shows others the many dimensions you have and the things that drive you.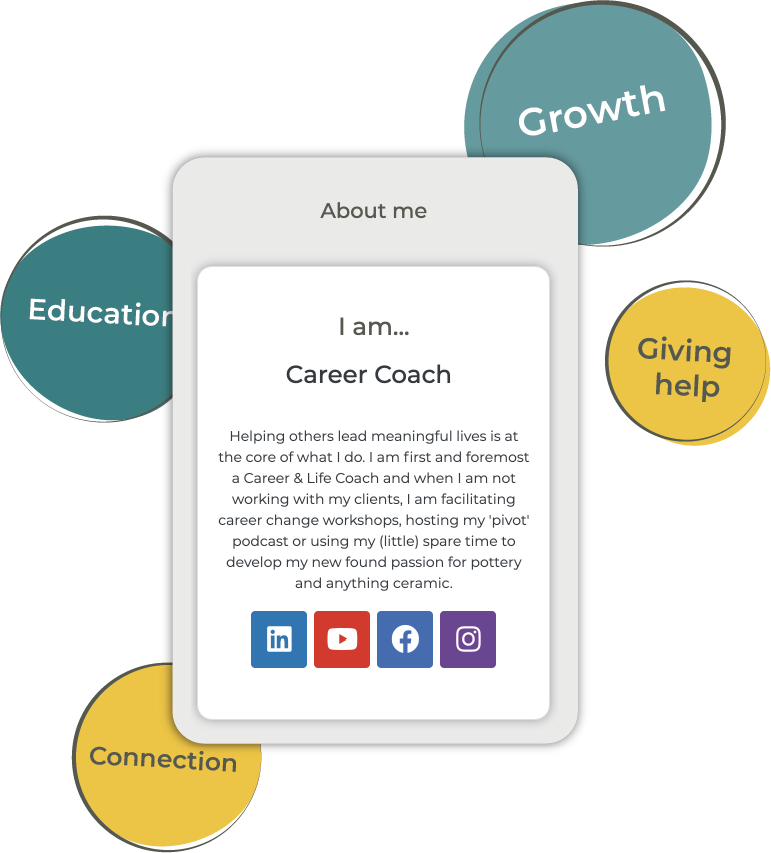 The best place to showcase your values and interests is in the About me section of your profile. Here, you can highlight your diverse offerings and provide context as to what motivates you. These will be displayed in the 'I am' box on your live profile.
Use relevant keywords in your skills section
Your skills are your bread and butter – literally, that's what people are paying you for. So make sure to highlight the most important ones! Just remember, you want others to find you via those skills, so try not to get too creative with how you describe them.
Think about how people might search for you. What keywords would someone use to find a mentor, board member, startup consultant or a project manager? These are the words and phrases you'll want to include in your profile. That way, you show up in the search results when people are looking for someone with your skills and experience.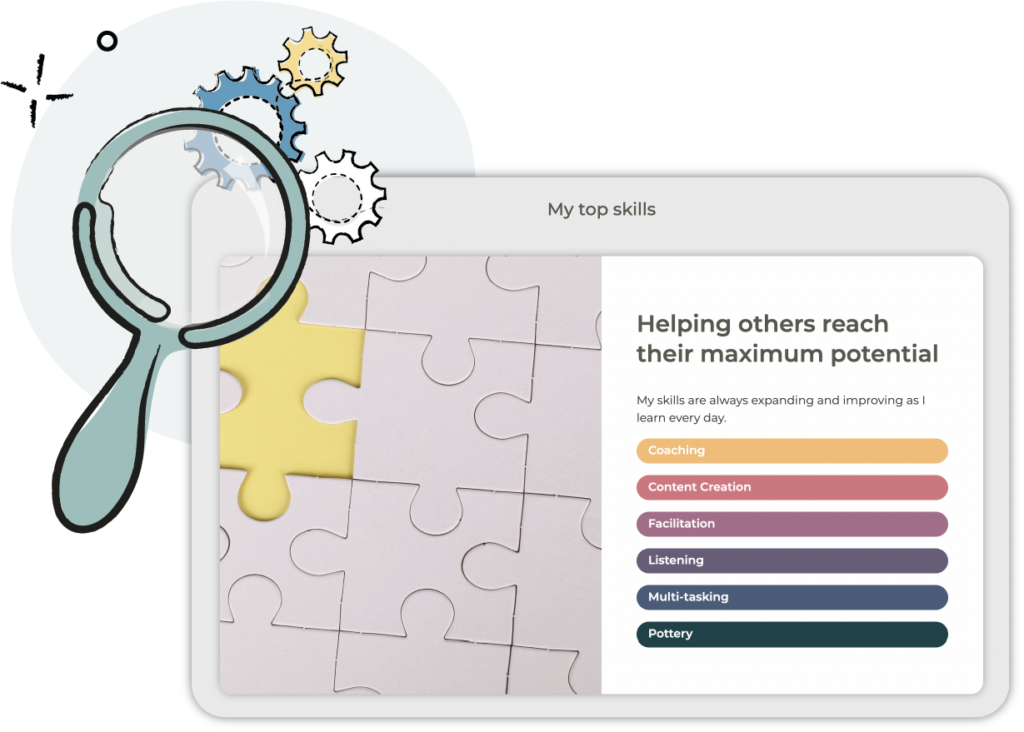 Some keyword categories to consider including in your profile:
Business Function: finance, HR, marketing, engineering, partnerships, product etc.
Industry: healthcare, education, energy, banking, advertising, mobility, defence etc.
Expertise: SEO, mobile app development, fundraising, talent management, international growth etc.
Job Titles: COO, CFO, CTO, Product Manager, Analyst etc.
Funding Level: seed, series A, series B etc.
Former Employers: Google, NHS, McKinsey, Uber, BP etc.
An added bonus is that the right keywords will also get you found on Google. TPC profiles are public, which means anyone searching your name or for your unique skill set can find you via a search engine. That means more visibility and opportunities for you.
Choose imagery that brings you to life
Your profile picture and cover image are the first impression of you on the platform. So don't stick with the generic placeholder image that comes standard when you sign up. Make your page unique to you. Your images can be a project you've worked on, a photo you've taken or even something more abstract that represents your passions.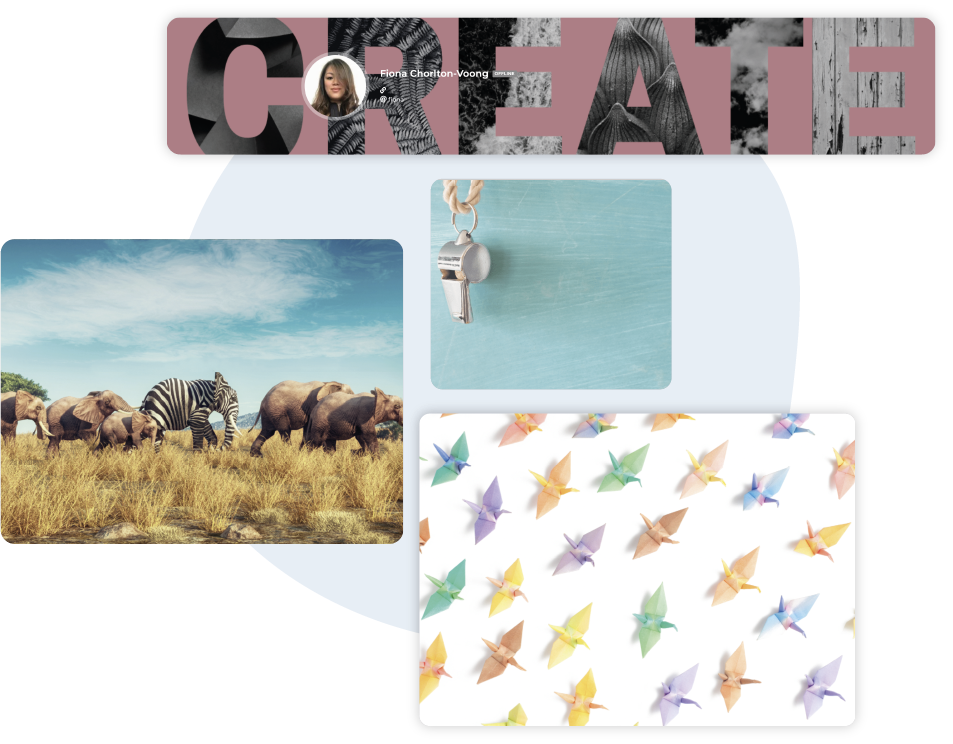 We know that searching for images can be a time consuming pursuit, which is why we've taken the pain out of the process by giving you a handy search functionality that allows you to find images from Unsplash as you're building your profile.
Simply go to the Images and contact info section of your profile builder and use the 'Choose a photo from Unsplash' search bar. The crop feature allows you to preview how that image will look on the page.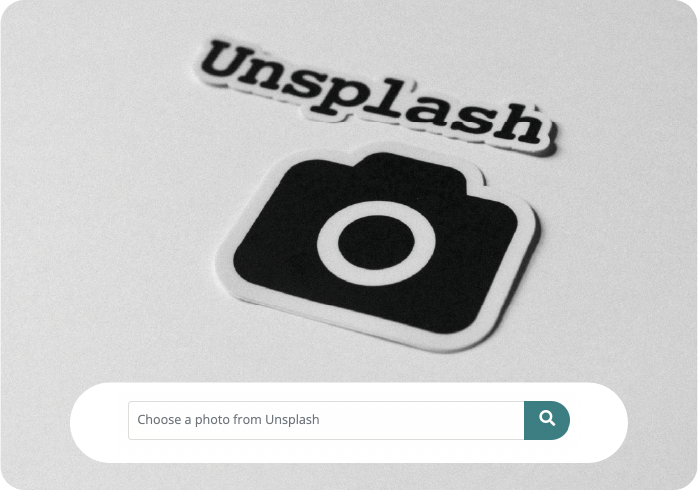 When it comes to your profile image, we recommend using a photo of yourself rather than something more abstract. Aim to look professional yet approachable.
Link to your wider social network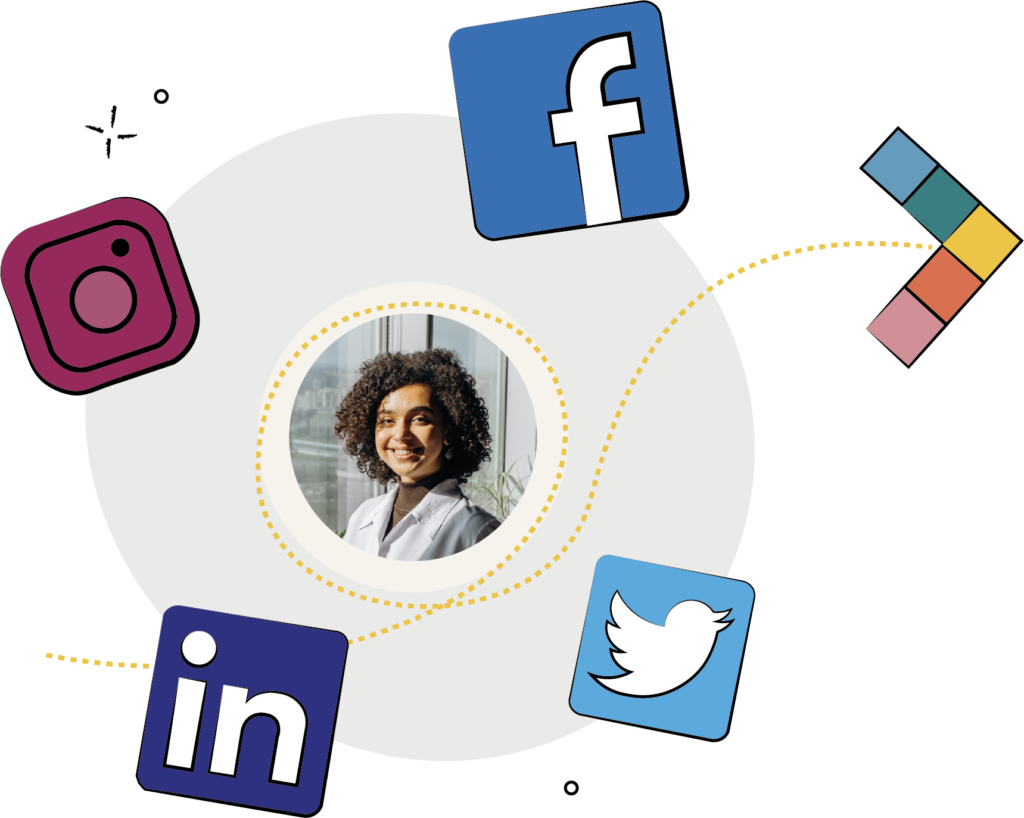 Are you active on LinkedIn? Or maybe you're a growing Twitter star. The more insight you give us into the different parts of your professional life, the easier it is to get a clear picture of who you are and what you do.
The same can be said for your website. We understand that a profile may not provide all the information a client needs about your services, and that's okay. Your profile tells us about you as a portfolio professional. Your website can go more in-depth and do the actual work of converting leads into clients. When you link your social networks and website to your TPC profile, you make it that much easier for other members and hiring managers to determine if you'd be the right fit for a project or collaboration.
It's all part of your wider digital footprint. Don't be afraid to share! You can link these from the Website and social channel section.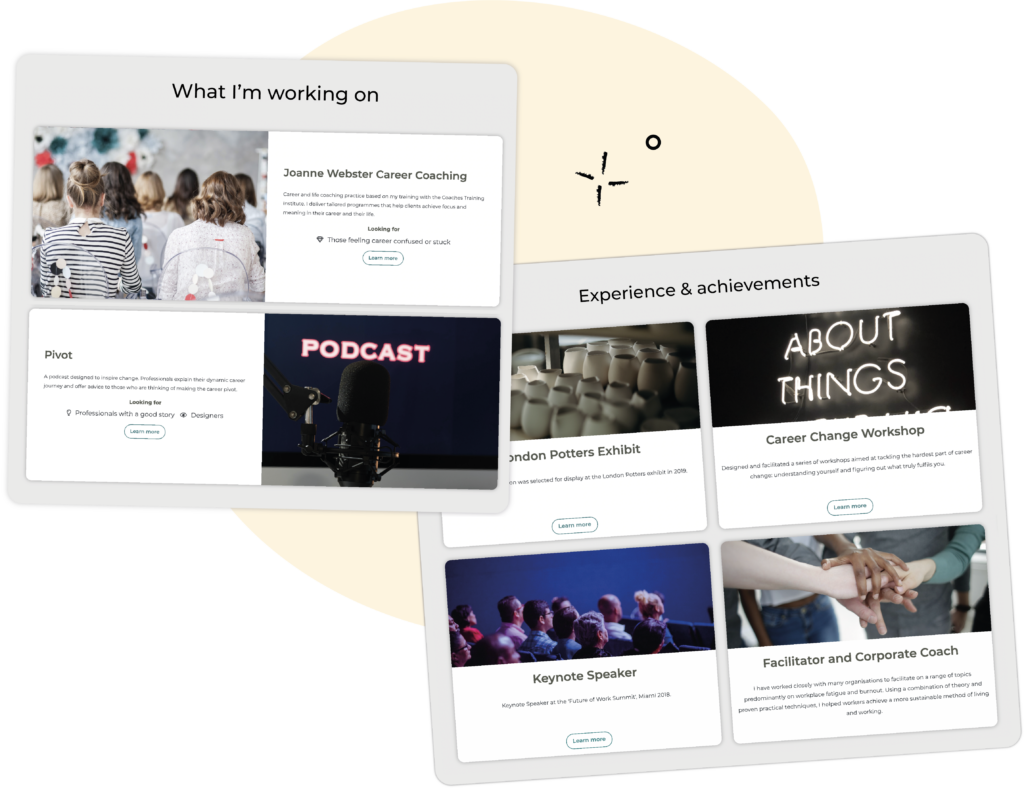 Not everyone in the community has finished transitioning into portfolio work, and that's okay. That's why we've given you the space to share past projects as well as projects you're currently developing. You can tell us about each project, include an image and even provide a link. That way we can dig a little bit deeper to understand your capabilities.

The What I'm working on section gives you the space to showcase your ideas, businesses you're currently developing, collaborations you're taking part in and even things you'd like to do eventually.
The Experience and achievements section is all about highlighting work you're proud of and any accomplishments you'd like to share with the community.
Both are a great way to bring your services to life.
Let us know what you're looking for
Eager to collaborate with someone in the community? Or maybe you want to mentor another professional or an organisation. The Work and mentorship section of your profile lets you send that signal out. This will all show up in the What I'm available for section of your live profile.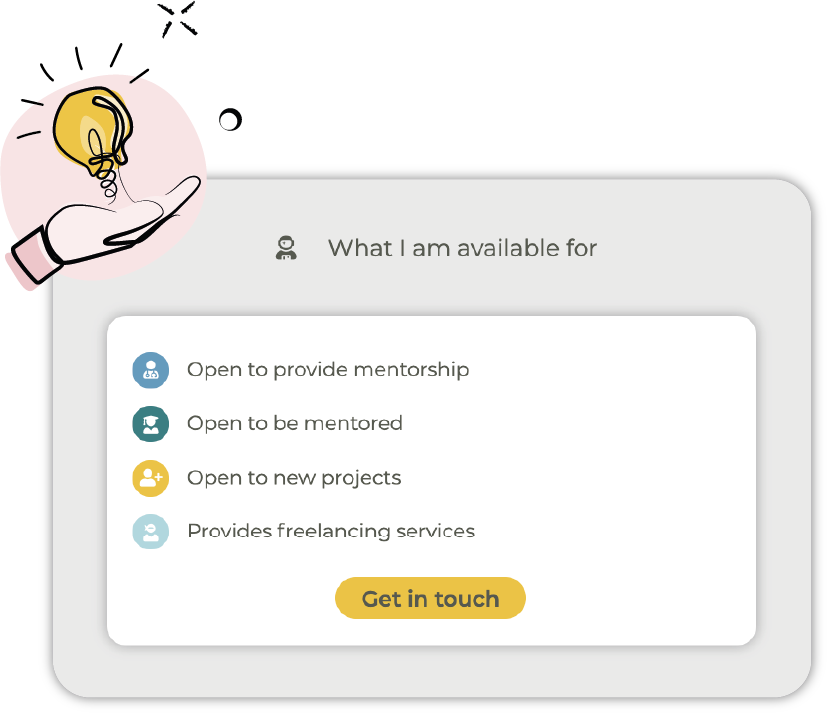 You can also tell us whether you're looking for support on a particular project – that way members who land on your profile will know to reach out if they're a good fit. When adding a project in the What I'm working on section, just tell us about the project and add in if you need another member's skills or services. That will then be displayed for everyone to see.
Get inspired by our members
When you don't know where to start, it's often helpful to explore what other members have done for inspiration. Check out some examples in our member directory and see what sparks your interest.
There is no right or wrong way of filling out your profile and we expect it will change as you continue to develop your portfolio career. If you would like any help, guidance or feedback please ask the community or contact members of the TPC team directly – we are more than happy to give you a hand.
Think this sounds like the right path for you? Come along to our monthly Get started event for new members to find out what a portfolio career could look like and how The Portfolio Collective can help you take those first steps towards professional success – and don't forget to connect with our community!
Keep up to date with the latest portfolio career news, tips and advice