We are an exciting, revolutionary and thriving healthtech start-up with a purpose and mission to change the way we support people with dementia, and also the thousands of people that care for them.
We are building a sustainable business: popular, secure, regulatory compliant, great to work for and profitable, in order to improve lives for a very long time to come.
With 44,000 downloads this year (growing 10% month-on-month), and games played in over 100 countries, we are now expanding our popular free app into freemium, then leveraging our unique content in an omni-channel platform supporting delivery, certification and online training.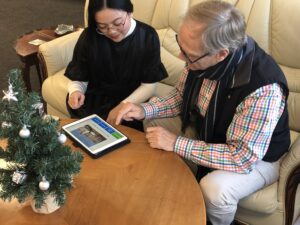 Our Vision is to "turn memories into games" to improve the lives of the elderly, a little bit, everyday.
Our Mission is to create trusted digital health technology solutions to delight our elderly community, their families, friends, carers and healthcare professionals, truly making a positive impact on their lives.
Culture is often described as what happens when no one is looking – ours is inclusive, rewarding, warm, candid, fiscally conservative and honest to-the-bone. Integrity is everything.
Our Company Values are:
Using technology to delight and engage the elderly – regardless of cognition, vision, hearing, dexterity, location and other challenges.

Playing well with others.

Collaboration. Quick decision making. Welcoming of strategic partnerships.

Frustration-free design based on the principle: "don't make me think".

Appreciating our island roots but always taking a global view.

We are data led: We love AI and A/B Testing; we are totally committed to security, privacy, data integrity and consumer protection; we actively seek clinical validation of our efforts to build confidence for our customers.

We support the charities and communities supporting the elderly, globally.
We are looking for a CTO / Co-Founder who is both excellent at coding (especially in the short term) and knows how to manage developers as we grow and scale. You will be responsible for developing and implementing the technology side of our client. Creative design, thinking and coding will all be essential.
You have a vision and you're looking for an opportunity to build something from the ground up. Not to mention, you're a good communicator and a diligent, detailed worker who knows your way around technology. Finally, you are passionate and care about making the care sector better by creating a platform that serves the community.
Frontend:
React – In house custom CMS

React Native / Expo – Customer facing app

Sentry – Used for app performance monitoring

Firebase JS Client – Used to manage user auth

tRPC + react-query – Used to fetch data from REST API with fully type safe inputs and responses

RevenueCat – SDK for unifying payments between Android, iOS and web
Backend:
NodeJS + Express – Server for our REST API

tRPC – Inserted as middleware into the Express server to link all type safe routes

Mongoose – ODM for interacting with MongoDB

MongoDB – NoSQL database
Infrastructure:
Google Cloud Platform – Hosts Firebase project, used for data backups using Cloud Storage and adds a CDN layer on top of public Firebase storage objects

AWS LightSail – VPS solution to run our Express server + perform cron jobs like backing up auth, DB and storage

MongoDB Atlas – Vendor hosted MongoDB clusters
As our client is a start-up, they are offering up a Co-Founder role which offers:
Significant Equity in the business

Salary of up to £6k per month, rising after the next round of funding.

Be part of a team that's disrupting the health technology sector

Lay the foundations for the business