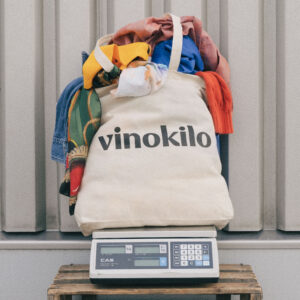 We are Vinokilo.
We are a growing team on a mission to make secondhand fashion more desirable than new, fast fashion. Why? Because we believe fashion should be stylish and sustainable.
We are based in Bodenheim, a beautiful town in the middle of wine country, 12 km south of downtown Mainz on the edge of the Frankfurt Rhine Main-Region. Our proximity to the airport and our central European location makes us open to the world.
The impact you will create
As an E-commerce Director, you are responsible for the creation, execution and continuous optimisation of the ecommerce strategy. You will work in a team with other Ecommerce members, where information-sharing and knowledge are the foundations of the team's success stories.
But most importantly, you will make sure your team works at its highest level to make our online store unique and special for our customer by:
Building, managing and developing a successful e-commerce team


Successful delivering of business value, near and mid-term growth for the brand


Leading and further developing strategic and tech projects


Managing and improving the online shop (design, UX)


Generating and implementing new sales and marketing initiatives to increase ecommerce sales and profitability


Providing expertise on current e-commerce industry best practices


Identifying new areas of e-commerce opportunity beyond current organisational thinking


Collaborating with cross-functional partners to manage all aspects of the e-commerce business including business planning, content strategy and development, promotional campaigns and other online marketing, website design, customer service, web analytics and web technologies


Working closely with demand planning and warehousing teams in order to ensure smooth order fulfilment


Managing direct reports such as fulfilment, customer care and production


Insuring the constant optimisation of processes and cost efficiency


Providing analysis and reporting on metrics such as weekly/monthly sales


Providing insights on customer shopping trends to support assortment selection and identify assortment gaps


Planning content production schedule and timelines
You'll love this role because
You'll be playing a leading role in the fight against fast fashion


You are passionate about sustainability and second-hand fashion


Your work will be meaningful, challenging, and have a tangible impact on the future of Vinokilo


You can set up processes independently


You'll get to work with a diverse team of individuals, all passionate about the impact we're collectively creating


You value long term profitability and sustainability over short term gains


There is plenty of room for growth, for the company and the role


You like to take responsibility and calculate risks


We are based in one of the most stunning areas with the beautiful countryside on our doorstep, yet a short hop, skip and a jump away from Mainz, and the hustle and bustle of Frankfurt and its International airport


We believe in working flexibly and that it is your responsibility to create a schedule that works for you and the company
Extensive knowledge of e-commerce technology and sophisticated analytics


Profound experience, min. 3 years in a similar role in ecommerce


Experience in fashion ecommerce


Experience with Shopify


B2C expert


Data expert with the ability to interpret data and draw conclusions to implement new ecommerce strategies


A proven leader with experience in managing teams


Experience in executing large e-commerce projects


Strong business judgment and decision-making skills


Ability to identify, prioritize, and articulate the highest impact initiatives


Data driven strong strategic and processual thinking abilities


Good management skills


Fluent in English
Various language skills


Fun working with many different people in a fast-growing business
What we bring to the table
Vinokilo offers the opportunity to work with a vibrant and diverse group of people, building a product we all deeply care about, in addition to:
Learning and Growth: We focus on the growth of each individual and support internal workshops with guest speakers, external workshops and programs to improve our employees' qualifications and enhance their journey with us.


Wellbeing: We always have a basket of healthy fruits and snacks in the office. We like to outsource our meetings and, whenever possible, enrich them with a balanced breakfast. Our smoothie maker is ready for you to get your daily dose of vitamins. The train station is approx. a 5-minute walk away. If you have a car, you can also benefit from our free parking spaces.


Generous time off: 25 vacation days + public holidays. Furthermore, it is important to us to enable each employee to have the opportunity to participate in important holidays within the framework of his or her beliefs or convictions.


Work-Life Balance: We offer flexible working (based on your team) and our office is dog-friendly!


Sustainability: Need new clothes? Profit from our vintage stock with your staff discount.
You can also prepare your lunch in our kitchen, so you don't have to resort to takeaway/fast food. We offer a shared wardrobe for our employees, where you can drop off clothes you don't want anymore and pick up items from others.


Fun: We love to celebrate our successes at Vinokilo. We have amazing winter and summer parties and also host internal employee socials such as quiz night, games night, movie nights and more.
Curious? This is your chance!
Please email [email protected] with a cover letter, video, or any other medium explaining why you want to join us, highlighting relevant experience, information and, most importantly, answering the following questions:
What makes you the perfect member of Vinokilo?
What inspires you in this department/section?
What makes you jump out of bed in the morning and why?
What makes you want to hide under your blanket in the morning and why?