Wanted:
Finance Director at Master of Malt.
Involves brilliant people, a competitive salary, large bonus, huge staff discount, an amazing culture of freedom and responsibility, and a total lack of corporate bullshit.
If any of the above appeals to you, read on.
About us:
We're a multi-award-winning drinks and technology start-up on a mission to disrupt the drinks industry.
We're re-imagining online drinks retail from the ground up, using cutting edge technology and fanatical customer service to build a company we want to be customers of and create unexpected delight as we help people explore, buy and enjoy high end whisky and other spirits.
In everything we do, we are disruptive innovators; it's baked into our DNA to challenge orthodoxy and received wisdom wherever we find it.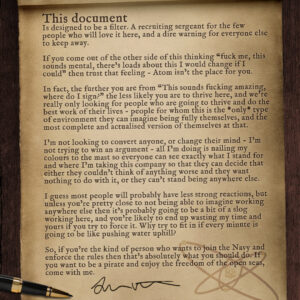 We've grown a lot since we were just a few kids in a shed with big dreams, but we haven't lost our hunger to build something great, and we're looking for people who have the same passion for making things better to join us on that journey.
In the last 10 years we've become the number 1 player in our industry, but we've barely gotten started. We're excited about the future and we'd like you to come and help us build it!
The role:
The work is exceptionally challenging and complex.
You'll report directly to Justin, the Founder & CEO, and will be responsible for finance and management information across the business. You will help shape our strategy and your views will count.
In your first 30 days you'll go on a crash course to understand one of the most complex vertically integrated businesses around;

In your first 60 days you'll re-build our production management and cost tracking system from the ground up;

In your first 90 days you will re-architect and implement how financial data is recorded, stored and flows across the enterprise, and is reported.
Then the real work begins.
For the first few months you'll need to be in the office at least 2 or 3 days a week to get under the skin of the business; after that 2 or 3 days per month should be sufficient.
Primary tasks and responsibilities
Own finance and management information, soup to nuts;

Make the business successful as a key member of the senior leadership team;

Drive efficiency and frugality throughout the business;

Recruit and retain a world-class finance team.
About you:
You

want to build cutting-edge financial systems and an all-star team that can do what others can't;

You are highly intelligent, tenacious and motivated. You're utterly intolerant of corporate bullshit and mediocrity;

You have a positive can-do attitude, you learn fast, and relish a challenge. You question things and need to understand them on a deep level;

You are exceptionally curious and creative – solving hard problems is what gets you out of bed in the morning;

You love efficiency and hate waste in all its forms – you relentlessly automate and eliminate repetitive tasks. You're extremely proud of how little manual repetitive work your department does and you build a culture of continuous improvement;

You question everything and are obsessive about deeply understanding everything around you – if you're buying a new accounting system then you will know more than the person selling it to you;

You understand that finance and management information is at the heart of a well run company and expect to be an active participant in the success of the business rather than a passive service provider.
Our ideal candidate has:
A First Class STEM+ degree from a top university;

10+ years experience with 4+ years experience leading a finance team in a complex business;

Significant experience in full stack e-commerce operation;

Significant experience in a fast-paced startup environment;

Demonstrable track record of building systems from scratch and turning data into actionable insights;

High EQ;

High IQ
Bonus points if you:
Understand how to work with and get the best out of software developers

Believe technology is the solution to (almost) every problem
Remuneration:
£125,000-£160,000 depending on experience
Bonus depending on performance