There's nothing better than a good book. A good book can transport and inspire you. It can help you realise things about yourself that you never knew were possible. And it can be just the thing you need to make a change and build the career you've always wanted.
So in honour of National Book Lover's Day we asked our community to share their favourite career-shaping books that have helped them discover new aspects of their potential.
Here are their top recommendations…
1. How to Win Friends and Influence People - Dale Carnegie
This book is a classic. Since its publication in 1937, How to Win Friends and Influence People has been purchased more than thirty million times. But what's perhaps more interesting is how this book, originally published as a self-help manual for American life, has become a guiding beacon for the modern worker.
That's because it helps the reader navigate the art of diplomacy. Yes, workplace culture has changed dramatically since the 1930s – and will continue to change at a rapid pace – but the importance of soft skills is still as relevant as ever.
It's also a great tool for becoming a better networker. Through it, you'll learn how to actively listen, show genuine interest, be sincere and give honest appreciation.
2. Awaken Your Genius: Escape Conformity, Ignite Creativity, and Become Extraordinary - Ozan Varol
We've said it time and time again: portfolio professionals have their own way of doing things. They march to the beat of their own drums, colour outside the lines, dare to be different – and all those other lovely clichés about existing outside the sea of sameness that is imposed on us in a more traditional, structured style of working.
Varol's book, Awaken Your Genius is all about unlocking your unique talents and carving out your path as a leader and creator. It's not just about standing out from the crowd – it's about embodying your distinctiveness and learning how to look where others don't. And it gives you the practical advice you need to find your genius and make a dent in the universe.
This is a great read for anyone who's struggling with imposter syndrome and wants to find the confidence they need to recognise their own brilliance and capabilities.
3. 4000 Weeks - Oliver Burkeman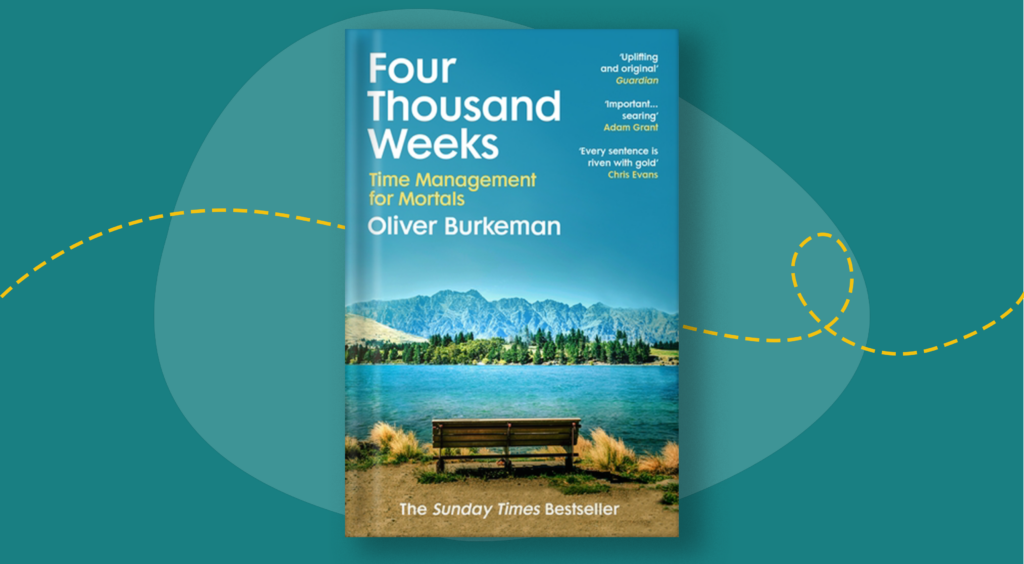 One of the biggest mistakes we make as humans is setting unrealistic goals for ourselves. We create a massive to-do list and are disappointed when we can't get through it fast enough. This is especially true for portfolio professionals who are juggling a diverse range of clients, projects and personal responsibilities.
So how can we feel like we're in control of our own productivity? According to Burkeman's 4000 Weeks, it's about accepting that not everything will get done. That's the first step towards leading a happier, more fulfilled life.
This book is all about having a meaningful approach to our time. There will be days where you can't get everything done – and days where you can. What matters is how you spend that time. Drawing on insight from ancient and contemporary philosophers, Burkeman delivers a profound – and often humorous – guide to time management.
4. Emotional Agility: Get Unstuck, Embrace Change and Thrive in Work and Life - Susan David
Finding fulfilment is hard work – especially when there isn't one clear cut path to happiness. So what's the answer? It's agility – emotional agility, to be more exact.
In Emotional Agility, David lays out a four-step approach designed to help you navigate the many twists life throws at you by having an open mind, practising self-acceptance and being clear sighted. It doesn't matter how intelligent or creative you are – you don't want to ignore the way situations make you feel, because those are moments where you gain the most insights about yourself and your potential.
Agility is such a huge part of balancing a successful portfolio career, and emotional agility allows you to see yourself and the world from a whole different perspective. It will do wonders for your career development, trust us.
5. Company of One - Paul Jarvis
This is an absolute must for portfolio professionals – especially if you're in the early planning stage of your career. Jarvis' Company of One centres around the concept that the key to a more fulfilling career is not to scale up, but to work for yourself. It's about committing to being better over being bigger.
And that's because staying small provides the freedom to pursue the things that are more meaningful to you. When you work for yourself, you're in charge of what you do and who you work with. So why not prioritise the work you're passionate about?
Drawing from his own experiences of cutting out the corporate hierarchy, Jarvis gives the reader the tips and tools they need to start their business, find the right revenue streams and keep clients happy – all whilst prioritising self-fulfilment over everything else.
Keep reading, keep learning
There are so many amazing books out there to help inspire and shape your portfolio career.
A few honourable mentions worth including are:
Deep Work – Cal Newport
Mastery – Robert Greene
Sabotage – Emma Gannon
Find Your Why – David Mead and Peter Docker
And don't forget to share your personal favourites with the community! Aren't a member yet? Sign up for free to discover more recommendations and career advice.
Think this sounds like the right path for you? Come along to our monthly Get started event for new members to find out what a portfolio career could look like and how The Portfolio Collective can help you take those first steps towards professional success – and don't forget to connect with our community!
Keep up to date with the latest portfolio career news, tips and advice