Ask anyone from our parent's or grandparent's generation what their definition of career success is and they'd say a steady job and a regular paycheck. That once meant delivering 40+ hours a week for a single, 'respectable' organisation in the hopes that your employer would look after your career (and pension) in return for your loyalty. But this sentiment no longer holds true in the modern world, where an employer can neglect your career, pivot, downsize or go bust at any moment. 
It makes even less sense when so many interesting things are going on elsewhere. Do you really want to miss out?

Let's face it, businesses are volatile and the cost of living is rising, which has increased the need for multiple incomes to cover bills and daily expenses. The good news is that the startup scene is booming and remote work has never been more achievable, which is why professionals everywhere are realising that sticking with just one job isn't necessarily the best option. 
Branching out is easy too. You can launch a side hustle and explore those passion projects you've always dreamed of, all without leaving your main job behind. So that begs the wider question: does 'full time' really mean what it used to? Or is it simply part of a wider (and arguably richer) portfolio career that gives you the freedom to try other things on the side?
Side hustles are becoming the norm
Those that were able to embrace technology – and had a productive remote space to work from – were able to continue working effectively throughout the pandemic. In fact, most professionals preferred this new way of working – with more freedom and flexibility.
The career game used to dictate that you'd stay in a job for at least two years before earning the right to shop around. No one wanted to look wishy-washy, changing things up all the time. We were told that a career history speckled with multiple jobs in various companies meant you were easily bored and incapable of sticking to one thing. With all this new found freedom, that's not the case anymore. In 2018, 25% of UK adults had a side hustle but this is now on track to hit 50% in the next few years (and 71% among 'high achievers').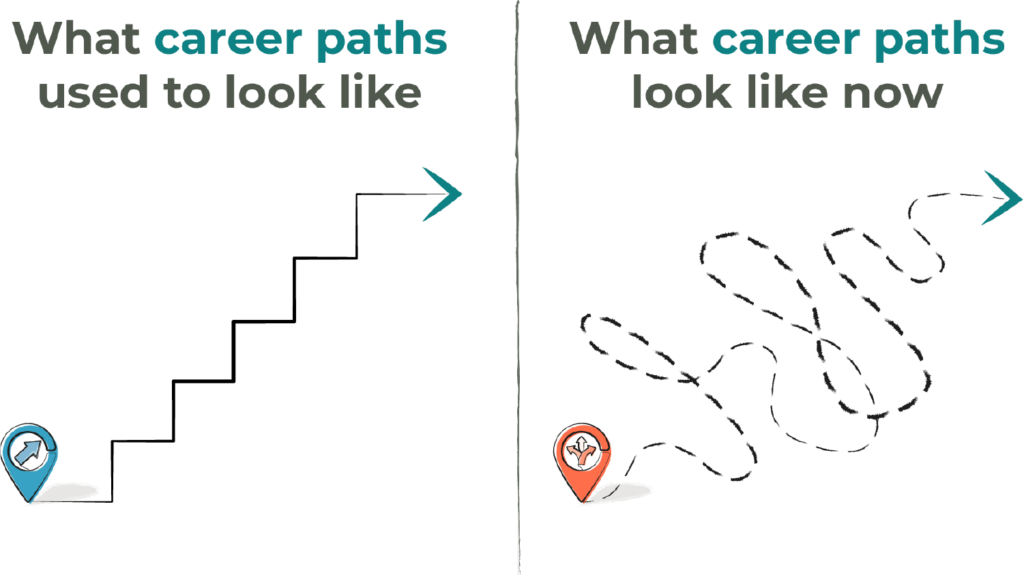 This is the age of the portfolio professional – where skilled, agile workers can seek out multiple projects and stitch them into a portfolio that meets career, learning, financial and 'giving' goals. This new normal was accelerated as the pandemic forced us to embrace remote and flexible alternatives to the traditional office. 
So what could this new world mean for professionals like you? Here are a few trends that have emerged since the pandemic that are transforming the way we work.
1. The definition of job security has changed
According to the MBO partners State of Independence Study, the number of independent workers in the US grew from 38m in 2020 to 51m in 2021, an increase of 34% year-on-year. It seems to be working too, with 67% of these independent workers saying they're more secure and 87% saying they are happier than those in full-time employment.
The pandemic was a huge time of self-reflection, and during that period many realised they didn't have to work for a company they didn't like or respect – and they didn't have to do a job that wasn't meeting their wider needs. In fact, they had the freedom to do whatever they wanted, from wherever they wanted. The world wasn't ready for The Great Resignation when it hit and many employers are still feeling the effects as they slowly adjust to the modern worker's mindset.
Of course, it wasn't just workers who were seeing the benefits of portfolio, freelance and contract options. The various lockdowns and slow downs have seen huge multinational companies laying off record numbers of staff as uncertain futures translated into heavily dented profit margins. When it came time to rehire and fill the roles they'd lost, many realised it was faster, cheaper and more flexible to work with independent talent rather than hiring people permanently. So they opted for agile talent strategies over traditional hiring practices.
It makes sense, really. Why spend so much time, money and energy hiring a full-time employee when you can access experts through platforms such as Upwork, or a community like The Portfolio Collective on a project, part-time or interim basis? 
If nothing else, it taught us that the traditional job security we once sought no longer exists, which isn't necessarily a bad thing. Whether through layoffs or The Great Resignation, professionals realised they could tip the scales of work / life balance in their favour. Plus, working independently allowed them to earn more because they were able to tap into new ways in which they could leverage their talents. According to Upwork's Freelance Forward Report of 2021, 44% of freelancers say they now earn more freelancing than they did in a traditional job, up from 39% in 2020 and 32% in 2019.
2. Digital nomadism is more than just a pipedream
With more people opting for portfolio, freelance, contract and project-based work, digital nomadism has continued to creep up in popularity – and we can see why, with the percentage of jobs on LinkedIn mentioning 'remote work' rising by 357% in 2021. 
In other words, employers are becoming more open-minded to the idea that you don't have to be in the same city to do a job well – sometimes, you don't even have to be in the same time zone. If you're not required to work from a brick-and-mortar office every day, what's stopping you from dialling in from a coworking space in Portugal or a coffee shop in LA?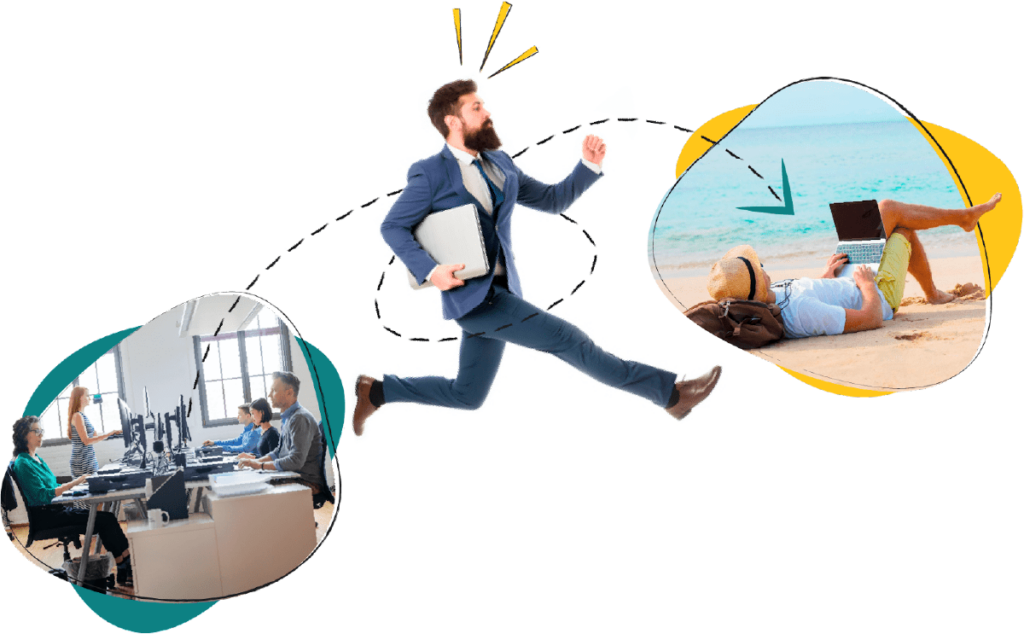 According to MBO, the US digital-nomad population grew 50% from 2019. The advent of remote worker visas is making this dream a reality, giving potential nomads a wealth of idyllic locations to call their office. Add in a portfolio career, good wifi and no ties to any particular geographical location, and you've got a recipe for adventure.
3. Portfolio professionals are an essential part of startup talent plans
We talked a bit earlier about big multinationals turning to freelancers to cut costs, but what about the vast numbers of new startups on the scene? How does the growing portfolio professional population open up new opportunities for growth and collaboration?
It's a standard part of every plan for startups and entrepreneurs to seek out portfolio professionals to help them realise their vision. That's because money is tight and retaining permanent members of staff is costly. Using an interim, part-time or freelance expert to help build a growing business is the fastest way to access some of the world's best expertise without burning loads of cash making long-term commitments. 
The benefits of startups working with portfolio professionals are myriad, ranging from keeping costs down by hiring on an ad-hoc basis to being able to cast the net far and wide and source talent from all over the world. You can read how CloudNC, a Series B autonomous manufacturing company, is growing by balancing both portfolio and 'main gig' leaders in our recent case study. 
It's extremely beneficial from a portfolio professional's perspective as well. Maybe you aren't ready to quit that full-time job but you're passionate about helping a visionary founder change the world. You can do that by sitting on a board as a non-executive director. Or maybe you prefer to mentor a startup leader or offer up your services for a few hours a week as an expert. The startups will be glad you did, and you can tick those fulfilment boxes all whilst building up your portfolio career.
4. Independent work isn't lonely - it's rife with collaboration
Many years ago, the idea of going independent may have sounded isolating. Not only are you in charge of your own workload and finding clients, but you don't have the comfort of an office filled with regular coworkers, coffee corners and team-building activities.
Now, having a portfolio career doesn't have to be lonely because there are communities filled with like-minded professionals where you can network, learn and work together just like you would in a traditional office setting (albeit, often remotely). 
Plus, there are plenty of coworking spaces popping up around the world that are tailored to independent professionals. As a remote-first workforce, our team uses Othership to find interesting temporary workspaces – and we frequently meet other portfolio professionals doing the same thing!
Conclusion: let's start calling full-time roles our 'main gig'
Given that 'full-time' suggests you have no time for other revenue generating or career enhancing activities, maybe it is time to kill the phrase. For those roles taking up 3-5 days per week and bringing in the majority of a professional's income, we propose calling them your 'main gig', i.e. they're still important, but only one part of a larger portfolio career.
Provided you have the knowledge and skills that others need, you can offer them up and monetise them in a variety of ways. So maybe it's time to join the flexible work revolution, free yourself from the office of old and start living the life your talents deserve.
Ready to connect with other portfolio professionals and see how they launched their side hustles? Join our community and start reaching out. Who knows, it may just inspire you to transform your career with confidence.
Think this sounds like the right path for you? Come along to our monthly Get started event for new members to find out what a portfolio career could look like and how The Portfolio Collective can help you take those first steps towards professional success – and don't forget to connect with our community!
Keep up to date with the latest portfolio career news, tips and advice