Growing up, I was often labelled the 'model student'. Surprisingly, this metaphorical badge didn't come from my parents. It was self-prescribed. The pressure I put on myself was immense to try and be perfect. 
I needed to keep my straight As in all subjects, to be an all-star athlete playing sports year-round and to look physically perfect – a far from easy task.
This obsession continued into my 20s. I moved from Japan to Charlottesville, VA, a college town in the US, to attend the McIntire School of Commerce at the University of Virginia. After graduating, I took the go-to route of my fellow classmates and moved to Manhattan, starting a career in media analytics.
I was, in many ways, living the life that I thought a 'model student' was supposed to live. 
But was I living the life that
I
wanted to live?
This question didn't dawn on me until the pandemic hit in 2020 and we were all given a mandatory moment of pause. I was an international worker, which came with its own unique set of challenges, living between New York and Toronto.
I always told myself that 'I didn't have a choice' when it came to visa-related complexities; that I needed to stay on this career path. But when the pandemic hit, I realised that was far from the case – I was choosing not to make a choice.
Why, you may ask? Because I was scared. 
This answer would probably surprise those who know me. People who move abroad are always classed as brave. But on the inside, I was driven by one primary emotion: fear. The fear of not being good enough. The fear of falling short of that 'model' persona.
And this fear seeped into my personal life. I was obsessed with diets and fitness, so much so that I developed an eating disorder in my teens. It wasn't until I realised that my health was about more than just my physical state that I had a real epiphany. I needed to approach my wellness more holistically.
Embarking on a journey of wellbeing
I often think of fear as diesel fuel – a helpful drive in the short term but not a sustainable energy source. I was beginning to see the cracks in my diesel-run approach to life as I couldn't shake the feeling that I was on the wrong path. I wanted to learn more about wellness. I wanted to find that holistic balance.
So I started to wonder. What could be the electric fuel source that would drive me long-term? 
I decided to educate myself to achieve a deeper understanding of what true wellness really looked like. While working in New York, I completed a wellness coaching certification programme and learned that wellbeing is about taking care of mind, body and soul.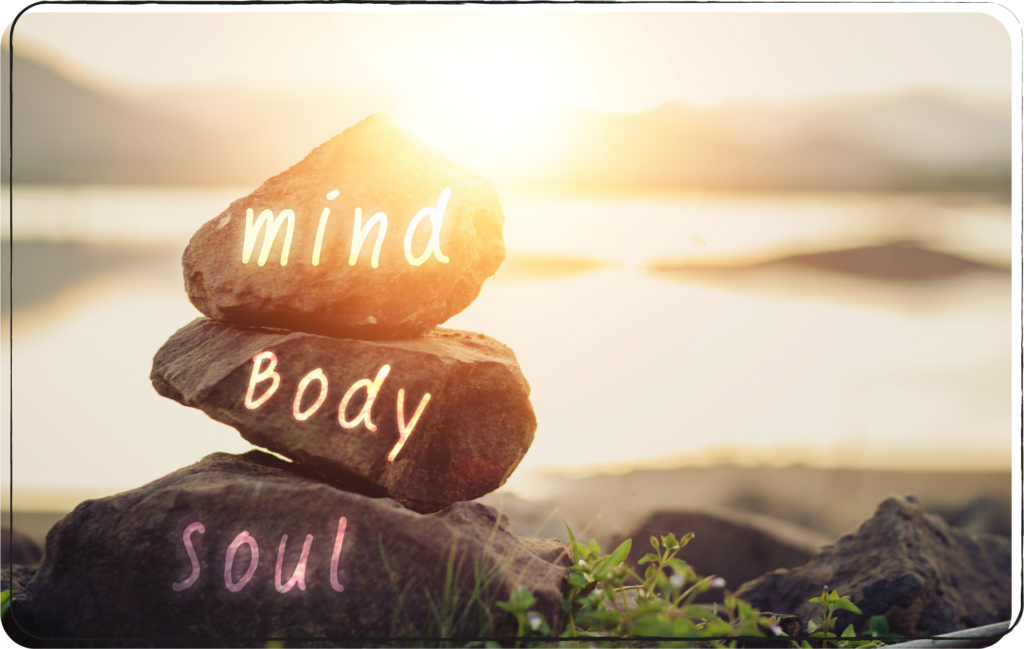 Being Japanese, I was familiar with the concept of Ikigai, which roughly translates to your 'reason for being'. I vividly remember my summer breaks visiting my grandma up north in Aomori, Japan. We would have our ritual of sitting down for a cup of tea and in her gentle, soft voice, my grandma would say that 'getting to spend time with you and your sister and to see how much you both have grown' was her Ikigai.
In Western culture, Ikigai is a term that has become synonymous with career fulfilment. People apply it like a formula that's meant to churn out the perfect professional path filled with meaning and purpose. Though it's an essential part of one's wellbeing, the true beauty is that it does not have a fixed equation and can change over time.
I was inspired to learn more and discover where this disconnect took place. I wanted to trace these concepts back to their origins and find the split between the commodified concept and the real notion behind Ikigai's 'reason for being'. This was a moment for me to be courageous and investigate the why behind it all, and it was such an important part of my wellness journey.
Courage is looking inward
Perhaps true courage isn't about doing something grand, but about looking inward and figuring out what makes us unique. 
This process of self-curiosity helped me appreciate two things about myself. The first was that the combination of a 'New Yorker' mind and 'Japanese soul' made me different. The second was that I was passionate about wellness. By combining these two facts, I discovered my Why. I wanted to empower individuals by helping them declutter their lifestyle and create longevity. 
By learning more about the origins of Ikigai and other Japanese wellness principles, I realised that having a holistic wellbeing approach was a cultural aspect that was already part of who I was. My mind was now finally catching up.
Once I was able to piece all this together, my portfolio career as a wellness brand founder (Mogami), author, online educator in Japanese wellness and a multi-hyphenate truly kicked off.
Intentional living and the portfolio career
I see a portfolio career as a choice, one that allows you to live intentionally as you embrace your passions and define your own future. For many people, that sounds like a dream – one that may even seem out of reach. But my journey taught me that we don't have to listen to that fear. It's okay to be messy; it's okay to try new things. 
That's why I want to share a few tips that helped me get started in my own portfolio career. That way, you can find your courage and discover the reason for being that drives you.
1. Hit 'pause' and reflect
In an ever-demanding and fast-paced world, it's easy to forget the importance of pausing and checking in with yourself. Start by creating time to reflect and really think about what motivates and inspires you.
2. Be curious about yourself – your whole self
Holistic wellness looks at your wellbeing from your mind, body and soul. Assess your current lifestyle from all three angles, and make sure not to focus too heavily on one over the others.
3. Reflect on where you spend your free time
While we often silo our professional and personal lives, a portfolio career uses your whole self as a starting point. Reflect on how you spend your free time, as this will serve as a hint as to what you're inherently interested in.
4. Embrace and welcome uncertainty
You don't have to know all the answers to what you want, who you are and what you want to achieve. I use the concept of wabi-sabi, Japan's guide to understanding authenticity through nature, to help me embrace this uncertainty. Wabi-sabi is a concept where we appreciate that life is impermanent, imperfect and incomplete.
5. Share with your community
Community is such an important part of life, and thanks to technology, you now build virtual communities that connect you with passionate people all around the world (such as The Portfolio Collective). These are the perfect spaces to communicate and share what you find during the self-exploration process.
Approach every decision mindfully
Our professional lives are just one part of who we are; one side of the puzzle. While I used to hate myself for feeling scared about making decisions, I can now appreciate how fear is an emotional signal. 
One that inspires us to be curious. One that highlights what's important to us. One that can be a path towards exploring how to live intentionally. 
Perhaps when we delve into this emotion with curiosity and look at who we are with no judgement, we'll be able to find the 'true courage from within' to embrace our authentic selves. 
Think this sounds like the right path for you? Come along to our monthly Get started event for new members to find out what a portfolio career could look like and how The Portfolio Collective can help you take those first steps towards professional success – and don't forget to connect with our community!
Keep up to date with the latest portfolio career news, tips and advice