If you want to land work, you need to have a digital presence. It's as simple as that. Just think about how hard it would be to build your business without a website to direct people to. It's how potential clients determine if your services are right for them. 
If you get things right, you could generate new inbound customers too.
But how do you create a website if you have no experience doing so?
Navigating the world of website building can be a bit tricky, especially if web design isn't part of your toolkit. That's why we've put together this guide—it's everything you need to consider when building a website for your portfolio career.
First, a few things to keep in mind…
Before you even start researching the best website builders, it's important to determine what you want your website to achieve. Part of managing a portfolio of work is keeping things organised, and if your website can do a lot of the heavy lifting, you might just be in a better place to grow your business.
Just think about all the things your website could do for you.
You can use a website to:
Schedule appointments with clients

Sell products / goods you create

Host a virtual gallery of artwork or design assets

Provide more detail about your pricing and services

Share testimonials and case studies

Host a blog or other content

And plenty more…

Once you figure out what you want your website to accomplish, you then need to think about growth opportunities. Will you need to add sections or features to your site as your business grows? Will you be looking to sell new services or products in the future? Will you be launching different business or ventures as part of your portfolio career?
These are all important aspects to consider, because you need to pick a website builder that is capable of supporting your current and future needs.
Choosing the right website platform
Not all of us are design savvy, which is why finding an easy-to-use website builder can be a bit of a godsend. It's about finding a template that's intuitive, yet professional. Something that can help you showcase your portfolio in a way that best represents you and your personal brand.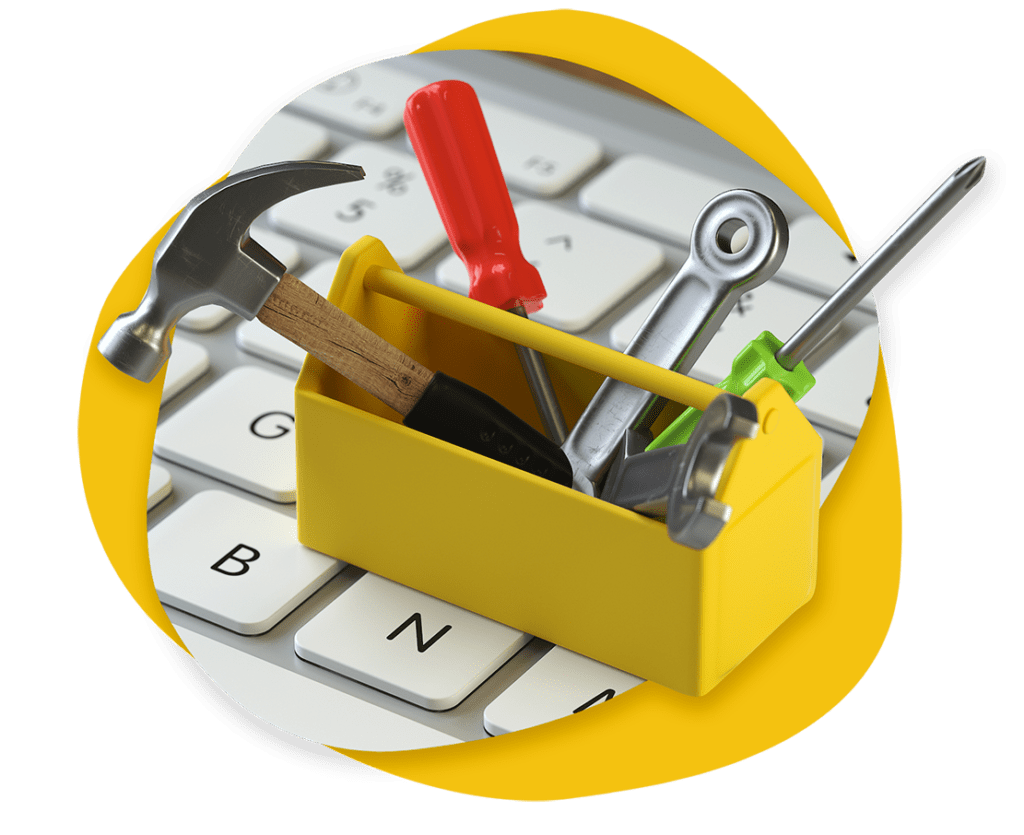 So how can you be sure which platform you should be using?
If you're looking for the best way to build your website, there are a few things you need to consider before you get started:
Pricing

– Which website platform offers the best bang for your buck? Are things like domain hosting, ecommerce functionalities and a free business email included?

Design

– Are you looking for something more off-the-shelf or do you want a platform that allows you to build and design things yourself?

Business Support

– Will you be able to contact someone if something on your website breaks? 

Domain

– What do you want your domain name to be? Some website builders include a domain as part of the plan, but it's good to buy your domain name separately to ensure no one else takes it.

Data Ownership

– Be sure to check all terms and services to find out what happens to the data you store on your website.

Website Structure

– The words you say and how you connect with users are just as important as the design. How do you want your content to be structured? How many pages will that require?
The good news is that portfolio professionals are spoilt for choice when it comes to website building platforms—from ready-to-use designs to fully hosted services. Not sure what's best for you? Here are our top 4 recommendations to help you get started.
Want to quickly weigh up the pros and cons of the best website builders for portfolio professionals? Jump straight to our comparison table below.
Initially, Weebly was initially set up as a way to host and share portfolio work online. So it's been designed with portfolio professionals in mind, which is a major plus. It's also a fully hosted platform, which means you don't need to install or manage any software to keep it running smoothly. 
If you're looking for something fast, easy, comprehensive and reliable, this is probably your best bet. Plus, you can start for free, which is always a nice added bonus.
Pros
Ready-made designs:

Weebly comes with dozens of fully editable designs and a user-friendly editing interface.

Ecommerce support:

This is built right into the platform. That way you can set up an online shop, if required.

Pre-built add ons:

There are plenty of ready-to-use features like contact forms, photo galleries, sliders and the like.
Cons
Design choices are limited:

However, you can customise the designs, so it may be worth seeing them more as templates you can build from.

Transaction fees:

If you decide to use Weebly's ecommerce features, then you'll have to cough up a 3% transaction fee on every purchase made on your website.

The basic package is very limited:

Yes, it's free, but that comes at a cost. If you choose the basic package, your site will exist on a subdomain and you'll be limited to 500MB of storage. You'll also have ads displayed on your website.
Cost: The basic package is free. Paid packages start from £4 a month.

This is probably one of the more enterprise-driven platforms available, which means it's ideal for anyone looking for a secure and robust hosting site. Like the other platforms mentioned in this article, Squarespace comes with plenty of intuitive designs for you to choose from, all of which are fully editable. 
What it does differently is it actually allows you to use several templates at the same time, meaning you can mix and match different designs where necessary
Pros
High quality design:

Though it may have less design options than Wix, what it does have is stunning and top of the line.

Great interface for managing products and orders:

This is especially useful for anyone looking to sell a product / service on their website.

More ecommerce driven:

Squarespace offers an ecommerce plan that allows you to add an online store.
Cons
More expensive than the other options:

The lowest tier plan starts at around £10 a month.

Design elements are more restrictive:

That means it can be harder to customise the templates or move things around.

Limits integration with third party services:

That can be a bit of a hurdle for growing your website if you find you need to add new pages or functionalities.
Cost: The personal plan starts at £10 a month and includes a 3% transaction fee for any purchases made on your website. 

Many of us may have become more familiar with the Wix name in recent years because they've been known to splash out quite a bit on their adverts. And though we'll be the first to admit that the idea of using the same website platform as Jason Statham is somewhat appealing, it's the benefits that keep us coming back time and time again.
That's because Wix is a fully hosted cloud-based platform that combines easy-to-use functionality with a whole host of powerful features that make customisation a breeze.
Pros
Hosting is included in the cost:

So you don't have to pay for a separate hosting service to ensure your website is running properly.

Hundreds of templates:

Granted, there's less choice than other providers, but sometimes too much choice is a bad thing. Each template is completely customisable and uses an intuitive drag-and-drop functionality.

There are plenty of free and paid apps:

That means you add a range of features to your website.
Cons
The lower tier plans show Wix ads:

They also don't include a domain name, so this may not be the best option for anyone looking to brand their site.

Migrating away from Wix is difficult:

If you have any plans of switching hosting platforms down the line, this is important to keep in mind.

Does not offer responsive design:

That means, the templates you use may not automatically adjust for different screen sizes or for mobile, which leads to some extra work.
Cost: There is a free plan available, however it's quite limited and requires you to use the Wix subdomain. Pricing plans start from £3 a month.

This is arguably one of the world's most popular website builders, with 14.7% of the top 100 websites powered by WordPress and over 500 new sites created daily on WordPress.org. That's largely due to the fact that WordPress offers a wide selection of tools that make website building simple and accessible.
WordPress is free and open source, which means you have maximum control over how your website is built. But that also means you may need a bit of development expertise if you want to create something complex and personalised. Please note that WordPress.com is a different site hosted by Automattic and does not offer the same functionalities as WordPress.org
Pros
The options are limitless:

WordPress can be used to create any sort of website. Literally. Anything you can think of. That could be a

community forum like The Portfolio Collective

, an online shop, a blog, a membership website and even an online portfolio.

It has thousands of high-quality website themes:

Plus, drag and drop page builders which make it easy to edit content and create a visual layout that speaks to your brand.

There are 57,000+ plugins:

That includes shopping cart features, contact forms, page analytics, social media tools, SEO optimisers and the like.
Cons
You'll have to manage everything yourself:

Unlike other platforms out there, WordPress is completely self-hosted, which means you're in charge of keeping things running smoothly.

You'll have to keep up with updates:

And you need to make sure you're on top of backing up your website regularly.
Cost: The cost of using WordPress is free. However, you will still have to pay for things like a domain name and website hosting to get your website up-and-running. Website themes and plugins may also come at an additional cost.
But which one is right for you?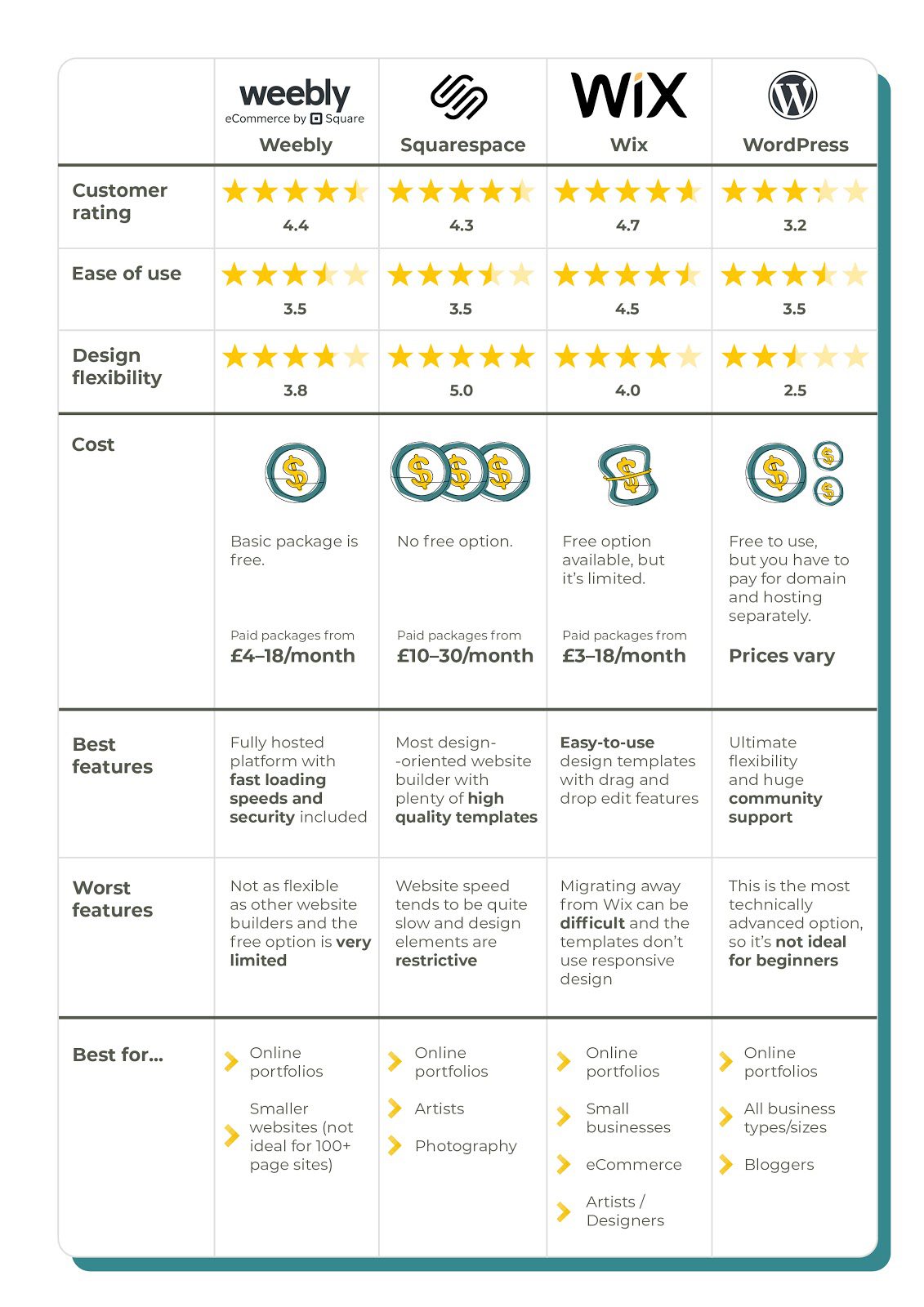 Which domain extension should you choose?
Part of the process of building a website is tailoring it to you. It's not simply a case of publishing an out-of-the-box design and leaving it at that. You want your website to sell more than your services—you want it to sell your brand.
So why not utilise a personalised domain extension to further that brand? Of course, this route isn't for everyone. Plenty of people opt for the traditional ".com" domain because it's trusted and global. But these days, there are more options out there that allow you to get creative with your URL.
This is a great route if you have a relatively common name like Jane Doe and janedoe.com is already taken. If that's the case, get creative! You can go for one of the increasingly common extensions like ".me" or choose something a bit funkier that showcases your expertise like ".guru".
Just be careful not to go too crazy. Remember, a lot of these domain extensions haven't been around very long, so people won't know to look for them. Keep it simple and relevant, and you should be fine. Also keep in mind how this may impact you in search engines—changing your domain down the line could hurt your rankings, which is why you want to pick one option and stick with it.
Have any other burning questions about choosing the right website platform?
By all means, share them in the comment section or ask our community. We're here to help give you the best advice we can.
Remember, your website should be able to evolve alongside your portfolio career. The beauty of this business is not being fixed to working on any particular project or in a specific industry. So you don't need to get the first iteration of your website 100% right from the get-go. Worry about getting your website "good enough" so you can spend more time closing deals and landing paying customers.
Think this sounds like the right path for you? Come along to our monthly Get started event for new members to find out what a portfolio career could look like and how The Portfolio Collective can help you take those first steps towards professional success – and don't forget to connect with our community!
Keep up to date with the latest portfolio career news, tips and advice