Some realisations build slowly over time, growing more intense in the pit of your stomach as you rise up the rungs of the professional ladder.
Frederick Leuschner
always knew he loved a challenge, whether that was leading a team or knocking a startup into shape. So when the opportunity to step away from traditional employment and launch a portfolio career presented itself, there was no question as to what he would do next.
"I shifted towards a new way of thinking, where doing a couple things simultaneously felt very comfortable. All my life I've been fully committed to one thing - either being an employer or being employed. I was ready to move away from that."
Since leaving traditional employment at the end of 2020, Frederick has embarked on an exciting new path as a startup consultant and advisor at
Founders Factory
. His mission is a simple one: to connect people with happy careers. Discover how the time he spent on our
Catapult course
helped him find direction and embrace a new way of working. Always leading, always learning Frederick was never the sort to let complacency hold him back - he was always looking forward and thinking about the next step. After working with big corporations like Google and Microsoft for several years, he realised he wanted to shift into an environment where he could make more of a difference. So he left the big companies behind and started working as a CEO in an ed-tech business that connected publishers with advertisers. This was his first experience running an organisation and he was thrilled to put his leadership skills to the test.
"It was really energising to be in charge of a company - to put in place the ideas that I gained over the years in terms of leadership, defining culture, and defining values. I enjoyed the responsibility."
After several years running the organisation, Frederick wondered if there was a way he could apply his leadership skills to a range of companies simultaneously. He grew restless with the idea of being tied to just one organisation and wanted to know what else was out there.
"The idea of being tied to a single organisation - the lack of flexibility, the attachment to one thing - was frustrating me. I needed to move on and find a different, more diverse sort of career. "
Finding a new path through Catapult
When Frederick came across The Portfolio Collective via a LinkedIn post, he recognised it as an opportunity to take that next step in his career. So he joined on of our workshops and from that quickly signed onto our Catapult course to figure out how he could take his ambitions to the next level.
"It felt like a lot of people on the course had similar challenges, view points, and were at the same transformation stage in their career where they wanted to explore new ways of work. That was a very connecting element."
For Frederick, Catapult wasn't just about finding professional direction, it was about connecting more intimately with his own values and mission and having a support system within a community. Now, whenever Frederick mentors a company or startup, he feels a stronger sense of purpose. He's not just guiding businesses, he's helping people on a personal and professional level. He gets to see the difference he's making through each company's performance and development.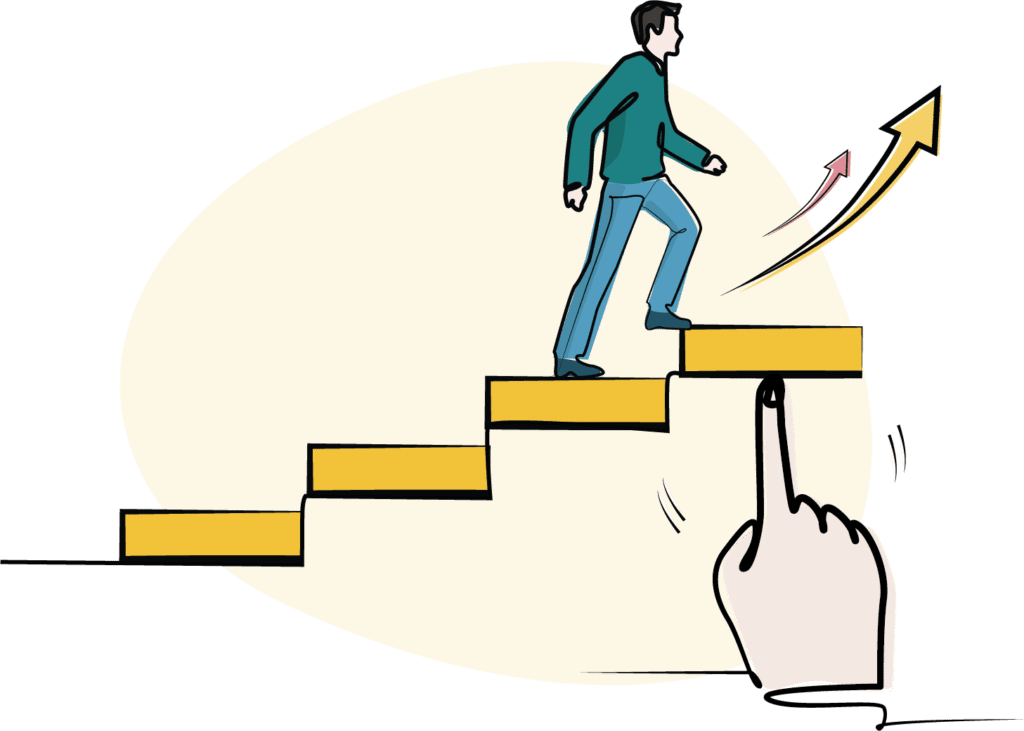 Frederick's personal mission has developed so much since he started the course. Now, his goal is to ensure that people are happy in their careers, and that starts with building better businesses for people to work within.
Looking ahead
Now that Frederick has had a taste of a more flexible and impactful lifestyle, he's adamant that he'll never go back to traditional employment.
"Because I've experienced a portfolio career and other ways of making a living, I realised that I value the freedom and the flexibility that this lifestyle has to offer. I don't feel the same stress that comes from a culture absorbing you when you work for one company."
He spent so much of his life worrying about the safe option that he kept himself from betting on his passions and expertise. As a portfolio professional, Frederick is in control of deciding who he works with and what his working day will look like, which means he never feels bogged down by limitations. Drawing from his own experience working with startups, he's now helping more innovative and imaginative companies grow and develop, which is a truly admirable mission. Going forward, Frederick is excited to play a more active part in the Portfolio Collective community as it grows and inspires more professionals to embrace new ways of thinking and working.
"I was very surprised by the calibre of people within the TPC community. I like that it doesn't focus on a certain industry. You find people from all areas and all stages in their life. I look forward to attending meetings and events because I always leave with a positive energy. That means a lot to me."
Inviting others to explore the portfolio lifestyle
The Catapult course was an important part of Frederick's journey, helping him to turn his ambitions into a fully realised portfolio career. Being part of our community allowed him to be his authentic self, and now he has bigger visions around what work can look like.
"Whenever you trust your instinct, you make the right decision. Don't compromise on that. If it doesn't feel right, don't do it."
For Frederick, freedom and meaning was the most important aspect of building a new career. Everyone's path is different, but no matter where you come from or what your background is, there's always the possibility to shape a career that speaks to not just your skills, but your own passions and your values.
Think this sounds like the right path for you? Come along to our monthly Get started event for new members to find out what a portfolio career could look like and how The Portfolio Collective can help you take those first steps towards professional success – and don't forget to connect with our community!
Keep up to date with the latest portfolio career news, tips and advice