Squiggly Career, Solopreneur, Multi-Hyphenate, Side Hustle, Portfolio Career. The concept has a few names and it is not a new idea, as it was popularised by management guru Charles Handy in his 1994 book The Empty Raincoat. However the term, and path it represents, is rapidly gaining popularity across the world.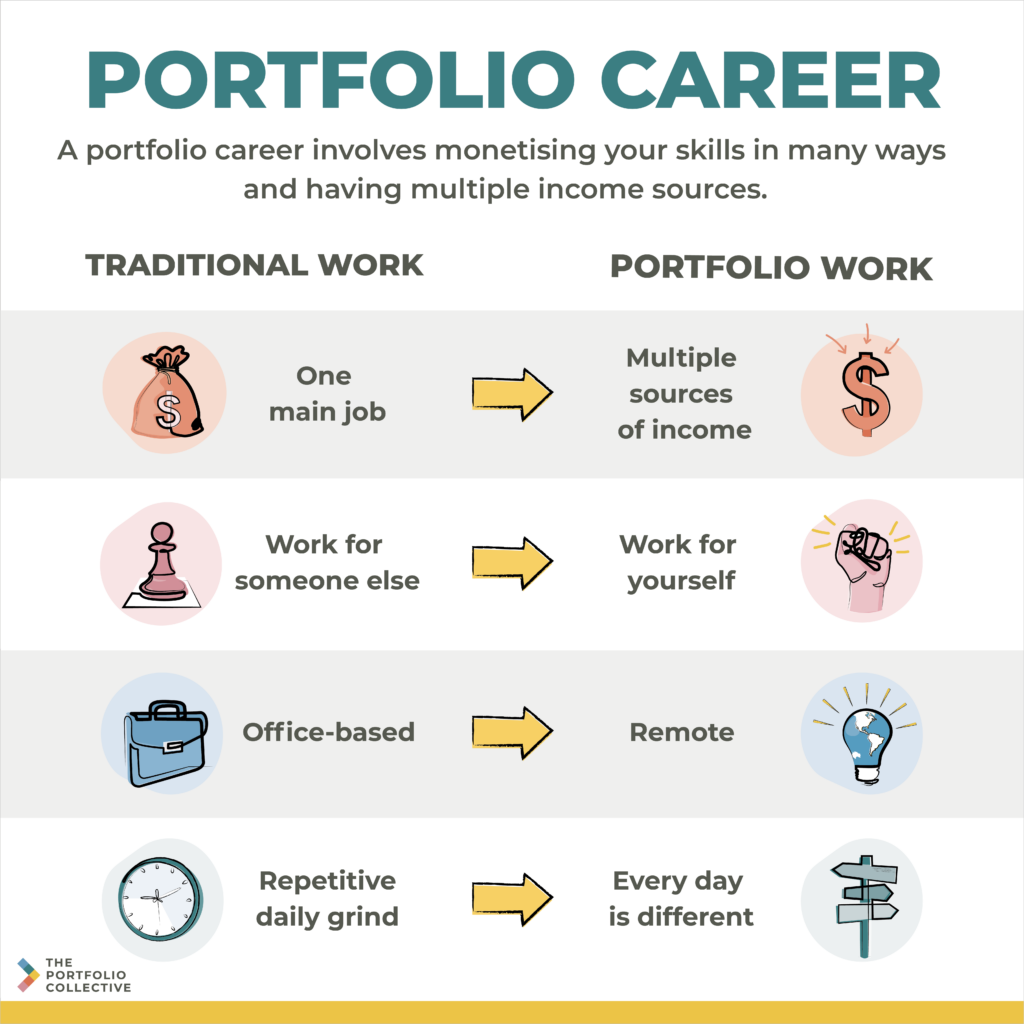 Each portfolio career is unique
A portfolio career involves monetising your skills in many ways and having multiple income sources, rather than a single job at one company. In the past this type of career was mostly dominated by senior executives, with former CEOs sitting on various boards, writing books, making speeches, etc. Nowadays a portfolio career is available to almost anybody with skills that are in demand (plus decent wifi).
The entry point for those earlier in their careers is often a side hustle or freelancing – generally in your spare time. The more advanced portfolio professionals develop more unique personal brands and offerings, owning their own intellectual property and monetising their skills in multiple ways.
For instance, if you take an interest in design and have experience as a full stack developer, you could spend part of your time creating new systems for a startup and part of your time creating beautiful website templates to sell on a platform.
A portfolio career can be any one of a million different combinations doing either broad or specialised work. One of the most lucrative examples we have found so far is a drone lawyer; the most quirky may be a woman who is both an accountant plus a circus entertainer.
You could equally be angel investing, buying and selling vintage clothing, designing treehouse offices, tutoring maths, running workshops, training puppies, running digital marketing for startups and anything in between.
In the UK 37% of adults already have multiple sources of income, and Henley Business School forecasts that 50% of all professionals will be portfolio professionals by 2028. For those with high flying careers, 71% say they will have a portfolio career in the near future.
Portfolio careers don't define what you do, just how you do it. And they are booming. 
Strengthen your portfolio career
We host a Getting Started With TPC call every week. Come along and we'll show you how to make the most of our platform and community and answer any questions you might have about portfolio careers.
Book your spot
Why are portfolio careers gaining popularity?
Firstly, demand for outsourced work is growing fast in both volume and variety. With companies everywhere struggling to fill permanent roles, plus needing more strategic flexibility, demand for the services of portfolio career professionals are rising. They help companies and individual clients,  to
fill skills gaps,
tap into expertise globally,
spin up new growth projects,
help restructure, downsize or reinvent themselves,
find mentors, coaches and advisors.
As some portfolio professionals become successful, they in turn start outsourcing work to other portfolio professionals, expanding the market still further.
With demand increasing, it is getting much easier for professionals to find part-time work. Dozens of job sites offer ways to monetise your knowledge and skills, so you can easily find potential clients who are currently looking for the services you offer. Within under an hour you can create a professional looking profile here on The Portfolio Collective, or – depending on your skillset – other sites such as Upwork, Yuno Juno, Nurole or GLG and start pitching for work.
Another reason people choose portfolio careers is to allow them to pick and choose exactly what work they do. Not so long ago, it was discovered that only 13% of corporate employees love their jobs vs 74% of people who founded their own business.
With this level of disillusionment around traditional work, it should not be a surprise that people want a more rewarding career where they make the decisions about what they work on, when they work and who they work with.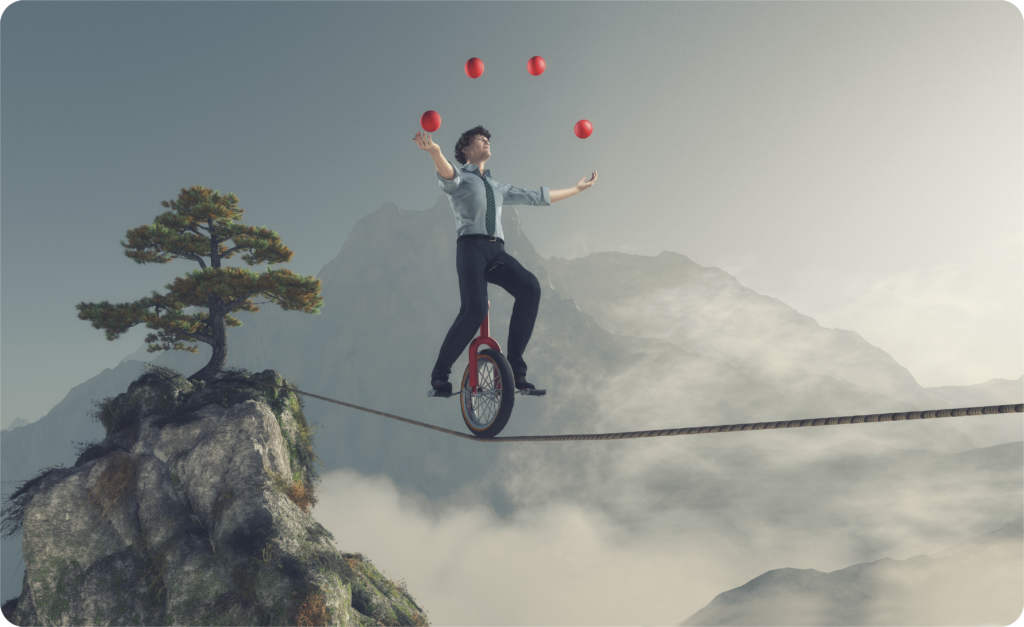 With industries being reinvented everywhere, portfolio careers give professionals much better financial security. If you lose one client you may be slightly worse off, but you haven't lost your entire income. Contrast that with the person who loses their full-time job and loses their entire income, unsure of when they will ever start earning again. By not putting all of your eggs in one basket, you are safeguarding yourself against the major financial risk that losing one full time role can bring.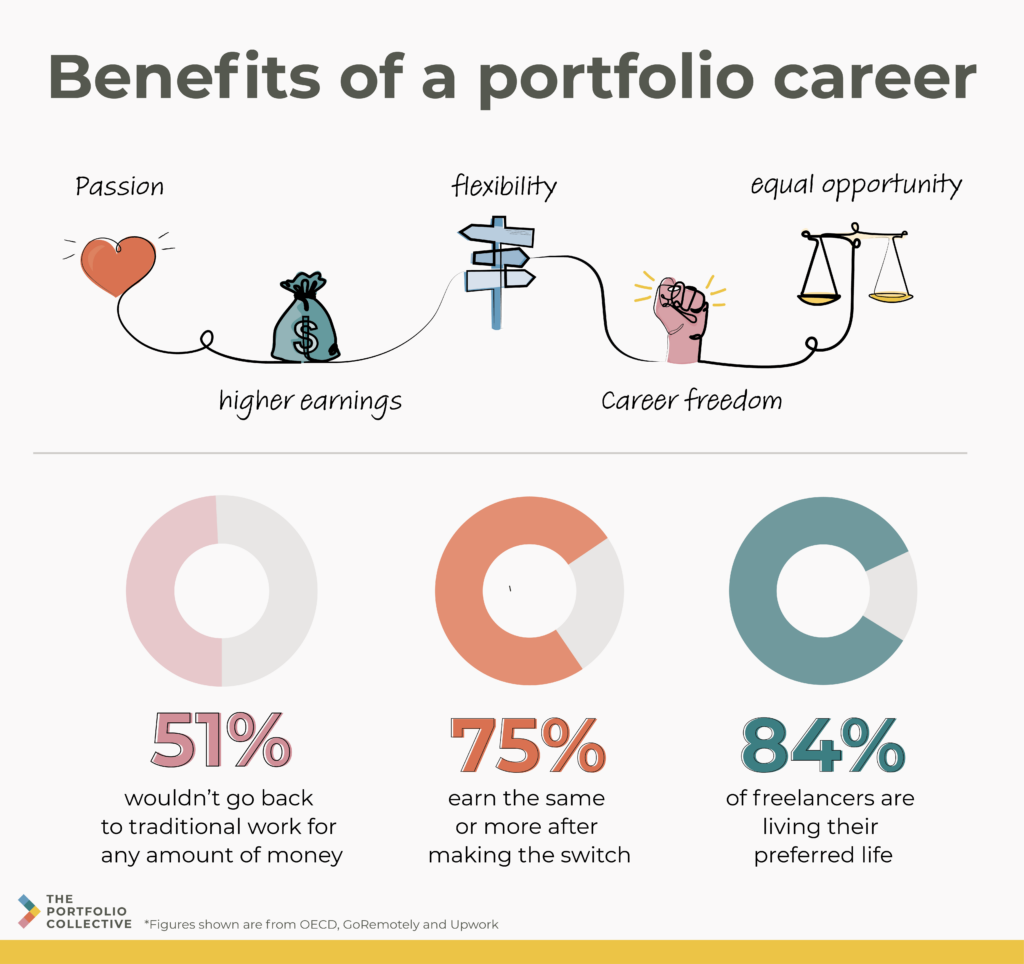 How much can I make from a portfolio career?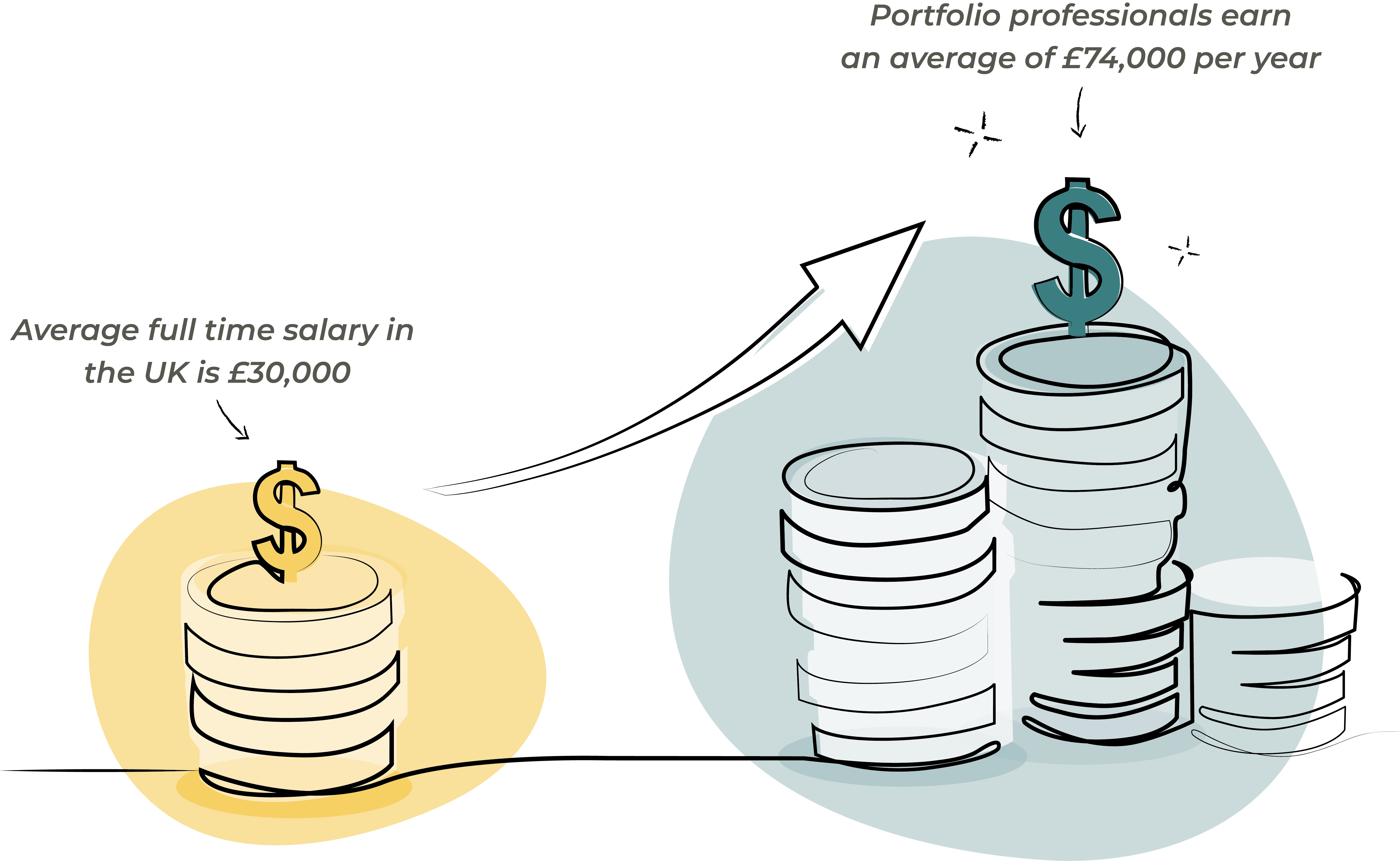 As an example, according to ITJobsWatch the average day rate for a product manager in London is £500 which is a pro rata annual salary of £130,000 before taxes. The average salary of a full time Product Manager is £55,254 according to Glassdoor. If a product manager worked only 42% (110 days per year) in a portfolio career, she could earn the same amount as in a full time role.
Specialising also increases your income potential. For example if you are an IT generalist consultant the average hourly rate is £39, but if you specialise as a Salesforce consultant your average hourly rate is £63. An IT generalist is likely to have some experience with Salesforce, so by doubling down on this area they can increase their potential earnings.

One word of advice. Although developing more specialised knowledge and skills will generally earn you more, there may not always be enough work to fill your calendar at the higher rate, so you may need to fill in the gaps from your specialist work with a broader offering, where there is higher demand. For example, you could be an amazing speech writer and earn great fees per speech, but if there aren't enough speeches, you would need to also offer more basic writing services to fill in the gaps.
How can I start a portfolio career?
If you have the luxury of time, a great way to start is with a side hustle. This can help you find your focus, build your brand and network, win some clients and fine-tune your offering. Plus the income earned can help you build some savings. Once you have momentum and a cash safety net, you can resign from your day job and go all-in. 
However, not every side hustle pays well, and many portfolio professionals leapfrog this stage. Anybody with a laptop, wifi, and a set of in-demand skills can start a portfolio career from their home. Unemployment in your local area could be 100% and it doesn't matter—you can pitch for work globally.
You need to start by identifying your knowledge and skills that are most valuable. Don't just think about selling your time; monetising the same skill in multiple ways can be the best possible way to maximise your revenue.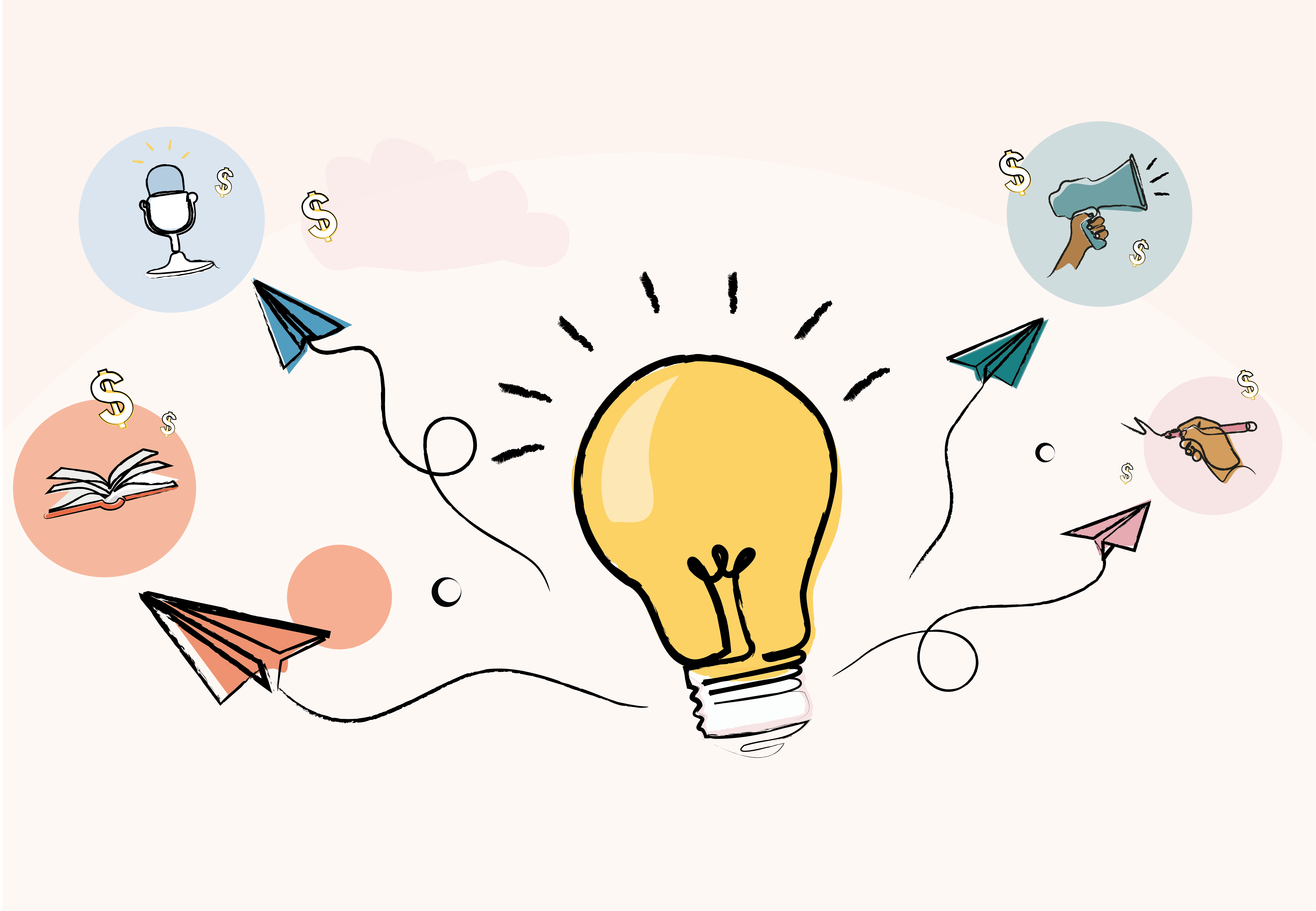 For example, a drone lawyer can offer legal services to companies, consult with governments writing new laws, present at conferences on the subject, sell training courses online and lecture at university—all using the same knowledge and skills.
Offering your skills to a company and getting paid per hour is only the baseline for portfolio careers; success and growth often comes from monetising that skill in as many ways as possible.
You also need to know that what you're offering is both something that is needed and differentiated. You do this by looking at the demand for it from your target customers and the number of people offering similar services to you.
For instance, if you promote yourself as a graphic designer you may struggle to win work, as the market for generalist graphic designers is already well catered for. However if you find a specialism, such as creating Doodly videos, you are more likely to win work from those looking for that specific skill.
Once you have defined your value, there are a set of step-by-step actions that you need to take to announce your arrival and start generating income.
Think this sounds like the right path for you? Come along to Getting Started With TPC to find out what a portfolio career could look like and how The Portfolio Collective can help you take those first steps towards professional success – and don't forget to connect with our community!
Keep up to date with the latest portfolio career news, tips and advice